Expand your finance team with on-demand resource and access to financial reporting experts. Our FAAS team are there when you need them.
The demands placed on your finance team are increasing. Stakeholders expect more insight, on time-management information, transparency of disclosure and exemplary financial reporting. At the same time, technology is changing the skills your team need, and you may be finding it difficult to find high-quality finance talent and financial reporting expertise.
Our financial accounting advisory services (FAAS) team can help you deliver on business-critical projects.
Flexible, scalable resource

Financial reporting expertise

Independent reporting
Flexible, scalable resource

Expert support for your finance team when you need it

Financial reporting expertise

We combine deep technical capability and broad sector experience.

Independent reporting

We can provide you with a level of assurance over financial and non-financial data.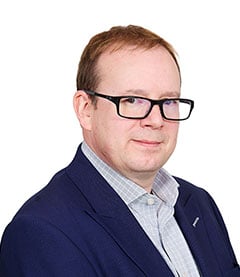 Get in touch
UK Head of Financial Accounting Advisory Services
Why Grant Thornton
Our FAAS team collaborates with large corporates, medium-sized businesses and not-for-profit organisations, working with your finance team to deliver the outcomes needed for your business.
Whether you're growing rapidly or undertaking a specific business event, such as entering new contracts, acquiring, integrating, restructuring, planning for an IPO, your management accounts or annual report need more attention, or you're having an unexpected technical issue raised by statutory auditors, we can help.
Our FAAS service is split into four elements:
Finance placements
We offer a placement service where our professionals embed themselves in your business, become trusted team members, and provide you with additional skills and expertise.
We collaborate with you to understand your challenges and work together with your finance team to develop a clear project plan and effective solution. We mobilise fast to bring an individual or team to support you.
We focus on your broader business objectives, not just individual tasks. We'll provide a fresh pair of eyes, suggesting improvements and bringing new skills and insight to your finance function.
Supplementing and upskilling your finance team during significant change, such as acquisition, disposal, high growth or preparing for an initial public offering
Reconstructing management accounts and resolving compliance issues
Prepare for year-end audit and supporting you deal with your external auditor
Prepare statutory financial statements and consolidated group accounts
Executing actions relating to accounting or control issues
Financial reporting advisory
We have a broad understanding of both best practice and how financial reporting can go wrong. These practical insights, combined with a broad and deep technical knowledge of IFRS, UK GAAP and US GAAP, and capital markets insight, means that we can provide you access to experts to help you balance demands and challenges within your team.
Impact assessments and implementation of new accounting standards
GAAP conversion work, principally IFRS, UK GAAP and US GAAP
Preparation of Historical Financial Information (HFI) in respect of IPOs
Accounting in respect of restructuring, group simplifications and acquisitions
Distributable reserves reviews
Preparation of accounting policy manuals and policy reviews
Technical accounting papers, for example, revenue recognition, share-based payments, business combinations and financing arrangements
Non-statutory assurance
Are you required to meet the needs of a third party over your data submission? We can provide a report of factual findings or level of assurance over financial and non-financial data tailored to the needs of your business and third-party requirements.
Agreed-upon procedures where there is a need for a bespoke report on factual findings within a specific area of financial or non-financial data
Accountants reporting on grant-funded projects
Agreed-upon procedures for turnover certification, loan-covenant compliance, and internal processes and controls
Assurance over non-financial data submissions made to UK and EU regulatory bodies
ESG assurance
We offer assurance or consultancy on Environmental, Social, and Governance (ESG) data.
Managing ESG risks and exploiting opportunities requires you to understand and measure the global impact of your activities and dependencies.
You also need to manage, use, and report on sustainability information.
Sustainability information is different to financial data – it's inherently more challenging to measure and interpret, or even know what to measure.
Shareholders and other stakeholders are becoming progressively more interested in the ESG agenda and how businesses are mitigating the associated risks. So, you need to understand how to bring this agenda into your business.
This is how we can help you achieve your goals:
Assist in setting up the process to collate the data for accurate and timely reporting
Ensure compliance with the legal and regulatory frameworks
Map out the emissions and energy use and advise on efficiency gains
Give assurance over reported ESG metrics
Statutory-audit support for digital assets trader
With one month to go until their year-end, the £420 million-turnover business urgently needed support to complete their previous year's statutory audit.
A team of six rapidly scoped the core issues to generate quality reconciliations needed for the imminent audit.​
The improved reconciliation procedures reduced the month-end process from 20 days to six days.
Find out more
Updating financial reporting for growing renewable energy company
Acquired by an investment bank, the client was facing their first UK statutory audit, and needed to update their financial reporting to meet the new owner's specifications.
Planning centred on understanding the client's priorities, and knowledge and resource gaps. Delivery was defined by monthly goals for incrementally improving management accounts.
A robust and repeatable balance sheet reporting process impressed the investment bank. The client's team were also trained in new concepts and standards to take forward.
Find out more
Testimonial
We're a very high growth Group in a complex industry and we needed a professional services partner to support us during the rapid build-out of our finance team. Grant Thornton quickly assembled a team of six, led by a highly-engaging and dedicated project manager. The Grant Thornton team supported us across the finance spectrum from core accounting and process documentation through to technical accounting, audit preparation and management. Throughout the project they were both agile and hands-on, whilst able to adjust to changing tactical priorities. We would definitely engage them again.
Jonathan Hugh
CFO, GSR International Limited
Helping new, limited finance team with business-as-usual
A finance team was struggling with its complex, international structure and demanding regulatory needs. They required a hands-on financial adviser to support business-as-usual.
The resolution relied on a strong relationship based on trust. With several projects requiring completion, we supplied a cost-effective interim, removing the need to outsource.
Our resource helped deliver business-as-usual financial reporting and business priorities. We also helped simplify the group's structure taking in accounting and tax impacts.
Find out more
Guiding a global manufacturer through audit challenges
Hundreds of audit queries were being sent to the company's finance team every day and, following a number of corporate changes, staffing issues were adding to the challenge.
We seconded eight ex-auditors to their finance team. Appreciating the challenges from both auditor and client perspectives helped us to understand and resolve the issues quickly.
We ensured auditable supporting documentation was made available swiftly for the auditors' review, and the accounts were completed and signed off successfully within the deadline.
Achieving Audit Readiness and Improving Reporting Timelines
A Private Equity house had bought a healthcare group and had rapidly scaled the business without changing the supporting finance and operational infrastructure. Furthermore, the business had their audit fast approaching.
We built a flexible team across multiple workstreams to help get audit ready and improve the month end reporting timetable for preparation of management information. Our team supported the roll out of a new reporting tool, integrated a number of acquisitions into the business and cleared a significant volume of backlog items. We were also able to deliver valuable improvements to data accuracy as well as implement a remediation plan enhancing financial operational processes, all whilst upskilling the existing team.
We embedded skilled resource into the company's finance team improving the overall team cohesion by role modelling best practice and adaptability. As a result, with our team's support the business was able to prepare clear, relevant management information by working day 5, right size their finance function and achieve a successful unqualified audit.
Get the latest deal announcements straight to your inbox