Our audits are supported by in-house specialists such as actuaries, investment and property valuers, IT specialists and tax experts. It's what stakeholders need and increasing regulations require.
Pension trustees need to respond to changing regulation and evolving risks. A full-service approach to assurance can help trustees navigate key challenges: from additional support on internal audit to ensuring that your risk register is focused on actions and always up to date.
The potential loss of member data is a critical reputational risk, so IT controls and cybersecurity should be priorities for all schemes.
The real benefit assurance brings to trustees is confidence in your governance.
Innovative methodology

Benchmarked insight

Trustee training
Innovative methodology

Focus on key risks in financial statements that delivers a robust and tailored audit supported by succinct observations

Benchmarked insight

Large client base enables industry-wide comparison of governance structures – on peer-to-peer scheme best practice and keeps you abreast of emerging issues

Trustee training

Guidance that leverages our market-leading position to keep you informed– from VAT, fraud risk, and fiduciary management, to cyber security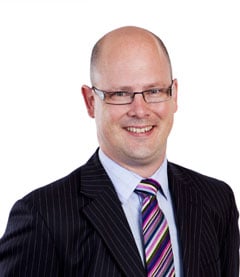 Get in touch
Partner, Head of Pensions
Why Grant Thornton
You'll work with our wider 150 people-strong pensions team that acts for 21 of the top 100 schemes in the UK, and has more than 330 pensions clients, auditing in excess of £300 billion of assets.
We're one of the largest providers of audit services to the sector, delivering to trustee boards of schemes - including complex schemes with assets of over £40 billion – and DB, DC, Hybrid, Master Trusts, and those with Common Investment Funds.
The occupational pension scheme market is a focus sector for the firm, and has been for over 30 years. It means we've built teams who have the depth of experience that you – and your trustee boards – expect and require.
Our pensions industry expertise is much broader than audit, and we have specialists who work to deliver holistic services to trustees, sponsors and key stakeholders, in areas such as valuations, actuarial, cyber security, internal audit and outsourced, and co-sourced services, as well as employee benefits consultancy and pension fund tax services.
Pensions advisory services
Supporting our pensions audit clients beyond compliance
Our client previously had a minimum compliance audit that provided no insightful recommendations to improve internal controls arising from the audit process.
Our team identified investment managers had been over‑charging the scheme and there was a duplication of effort between the in-house team and scheme advisers.
New risk management processes were implemented to provide greater visibility over mitigating controls for the trustee, ensuring they operate as expected.
"We had not considered a non-Big 4 firm before for the Scheme Auditor, but Grant Thornton have hit every milestone promised and understand who we are, what we're about and the processes involved."
Andy Rowell
Head of Trustee Services, Unilever (UK) Pension Fund