Emerging technologies and the pace of digital disruption are testing established business models. The war for talent has never been fiercer and regulatory requirements are ever more complex.
Your technology business must keep pace with all of this. Depending on your level of business maturity, the challenge varies. But the principles are the same: innovate, grow, deliver a fantastic client experience. CEOs need to work out how to scale and grow faster than their rivals – without compromising the DNA of the business.
In a highly liquid funding environment with high valuations on expectations of significant future growth, sustainable success requires the right execution and advice.
Top in tech

Specialist expertise

We are where you are
Top in tech

We ranked number one financial adviser by Experian by deal volume six times in the last eight years.

Specialist expertise

Our dedicated technology practice has experts across the UK and the globe dedicated to working with fast-growing technology businesses.

We are where you are

We combine global scale with local insight to understand the unique features of your market.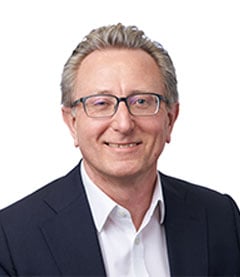 Get in touch
Head of TMT, Corporate Finance Advisory
How we help our clients
Technology is one of our three global priority industries, so we're committed to helping you succeed and deliver your strategic ambitions. We work with dynamic tech companies of all sizes. We help you plan for growth, adapt your processes and controls for changing business models, manage risk, meet regulatory requirements and develop growth strategies.
Technology insights Q2 2023
Bright spots persist within the TMT M&A market despite wider macroeconomic pressures. Andy Morgan and Peter Marshall explain the key events and trends for the tech sector in Q2 2023.
What can we expect from tech?
What our clients say about us
Grant Thornton's experience and expertise were critical in obtaining a highly satisfactory conclusion to this complex transaction. The project ran smoothly and to schedule from inception to completion, due in no small part to the personal care and diligence provided by the Grant Thornton team. We'd love to work with you again in the future.
CFO
Hargreaves Lansdown
Grant Thornton understands TMT and deal mechanics. Their support and guidance throughout the process was invaluable and delivered a result exceeding our expectations. I would like to thank the team for their hard work in helping to get this deal completed. The outcome is testament to their experience and negotiation skills and I would highly recommend them to anyone looking to sell their business.
Managing Director
UltraSoC Technologies Limited
A strategic partner for iSAMS – in 12 weeks
iSAMS is a market-leading web-based school management information system (MIS) that had received a pre-emptive approach to sell.
We ran a confidential and competitive process with a focused selection of strategic global acquirers delivered to a tight timetable.
This allowed us to drive value and find the right strategic partner for iSAMS, to accelerate the growth trajectory and expand into the state schools market in the UK, delivering a transaction from start to finish in less than 12 weeks.
It was our first experience of an acquisition and it was very important that we were given the expert guidance throughout the whole process, from the initial workshops to completion. We would highly recommend Grant Thornton to anyone looking for that complete service.
Jamie Reid
Sales Director
Get the latest insights, events and guidance about technology, media and telecommunications, straight to your inbox.