NAVIGATING BREXIT
Need practical advice on navigating Brexit?
Discover our practical steps for business leaders
Having too many companies in your group structure can be expensive, and the changing financial reporting and regulatory landscape can lead to additional compliance work. Value may also be trapped deep within the corporate structure, restricting restructuring options and potentially leading to dividend blocks. These issues are increasingly leading clients to simplify their group structures.
Through the provision of project management and technical support, the corporate simplification team has assisted hundreds of clients to achieve their goal of a leaner and more efficient corporate structure in a tax efficient and cost effective way.
Following the sale of a business, or the wind down of trading activities, business owners also want to maximise their returns as shareholders. Our team works closely with all stakeholders to maximise shareholder value whilst ensuring that the risks of company eliminations are managed effectively with timely and tax efficient distributions of capital.
Issues you might be facing: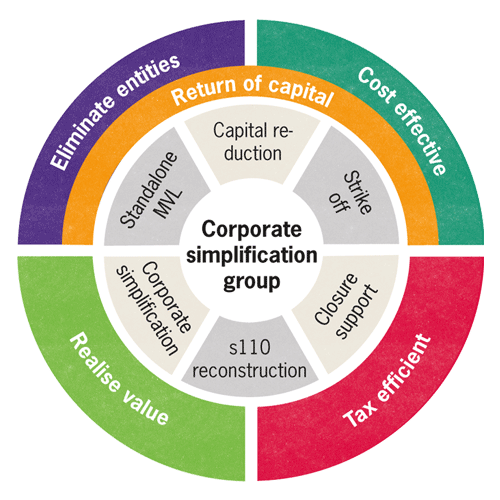 Corporate simplification
You are concerned about:
regulatory requirements, which may lead to transparency and corporate governance concerns and additional administration costs
financial reporting requirements that mean you have to revalue intercompany balances potentially causing inefficiencies and dividend blocks
Return of capital
You have:
sold your business, or wound it down, and you wish to eliminate the company and maximise your return as a shareholder
a company with significant share capital locked in
historic negative reserves, which could prevent future dividends
Closure support and s110 reconstructions
You would like to:
streamline operations by restructuring your group into a smaller number of companies
exit a business. What's the best way to proceed?
move operations offshore or exit a market
prepare for a sale or want to split valuable property assets from a trading business
different shareholder objectives of succession, inheritance or divorce planning issues
The corporate simplification group is a partner-led UK practice with a national team of specialists who are committed to realising value for shareholders, in a way that recognises the interests of all stakeholders. Our team is solely focused on the execution of solvent reorganisations, solvent liquidations, capital reductions and strike offs.
Our extensive experience of assisting clients with global simplification projects enables us to deliver solutions to all types of cross-border assignments.
If you are looking for more advice around any of the topics above, we are happy to offer a free initial meeting to consider a risk based evaluation of your business operations and to identify areas where we would be able to assist you to achieve your objectives.