NAVIGATING BREXIT
Need practical advice on navigating Brexit?
Discover our practical steps for business leaders
We've extended our partnership with Cranfield University to create four new courses at MK:U, delivering undergraduate apprenticeship degrees addressing digital skills shortages facing many businesses.
MK:U delivers a new kind of learning experience for the 21st century, designed and delivered with business in mind. It focuses on new technologies and industries, providing technical, creative and commercial skills for the digital economy. Learning focuses on the practical implications of theories and decisions, enabling the apprentice to make an immediate impact on your business. MK:U complements its subject-specific education with a professional and personal development programme.
Programme cost

Various programmes (Level 6) are all fully funded by the apprenticeship levy.

Hybrid delivery method

This flexible hybrid model is delivered using the latest technology – learners can join us virtually or in person.

Problem-based learning

Learning is driven by problem-solving in small interdisciplinary groups.
About our programmes
The MK:U programmes in collaboration with us delivers an educational style different from other universities. Instead of traditional lectures and exams, our entire curriculum uses problem-based learning (PBL) as our core educational approach. PBL is an experience-based model where learning is driven by open-ended, yet meaningful, problem scenarios that apprentices solve through working together in small interdisciplinary groups.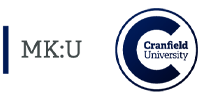 Our portfolio of digital apprenticeships
A hybrid delivery approach enables learners to attend either in-person or remotely. This flexible model is delivered using the latest technology in a modern, purpose-designed, educational space in the heart of Milton Keynes.
Level 6 Cyber Security Degree Apprenticeship (BSc Hons)
This apprenticeship covers human and technical aspects of cybersecurity. It equips our learners to work in cybersecurity teams, a wide variety of computing roles across broader businesses, and within organisations that have cybersecurity as their primary business.
Level 6 Data Scientist Degree Apprenticeship (BSc Hons)
This apprenticeship focusses on working end-to-end on real-world problems and case studies. Our course focuses on how data science impacts and supports business – MK:U graduates will develop an excellent understanding of the industry and the role of data practitioner in any work setting. This programme addresses the technological skills gap in this area with flexible, business-focused and industry relevant modules
Level 6 Digital and Technology Solutions (BSc Hons)
This apprenticeship offers a choice from six pathways tailored to professional specialisms found in the realm of digital and technology The programme is interdisciplinary by design. Apprentices work at, and across, the boundary of STEM and management science disciplines during their core and specialist modules, with options to further individualise their later modules in areas of personal and professional interest.
Level 6 Chartered Manager Degree Apprenticeship (BSc Hons)
This degree apprenticeship equips learners with core leadership and management capabilities alongside an entrepreneurial mindset, the ability to lead change, and an enthusiasm for future technologies. These are all key requirements for leading in a digital context.
HR insights: tailored content for today's HR leaders
Receive the latest insights covering future-fit skills, diversity and inclusion and transformational change.