In June we hosted a virtual roundtable for chair of audit committees focusing on the charity sector and how organisations select and monitor reserves and investment policies. Paul Rao shares our report on the key themes and considerations.
The roundtable was attended by charity organisations' chair of audit committee, or equivalent, as well as our own audit and assurance and risk experts in the not-for-profit sector. The conversation was held under Chatham House Rules, but we've collated a report summarising the responses to five key questions:
How often do charity organisations review their reserves policy?
What are the key factors in setting the reserves policy?
How much is climate change a factor?
What are the objectives of the investment policy?
How are investments and reserves linked?
You can find out more about the general response to these topics, including our own perspectives, by reading our report on the roundtable.
Download PDF [693 kb]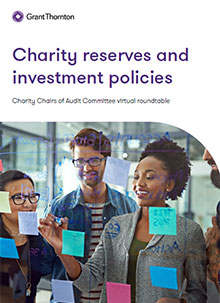 For more insight and guidance, get in touch with our team: Paul Rao, Stephen Dean and Harriet Raine.

Not for profit: charity updates, insights and events
Get the latest insights, events and guidance about the charity sector, straight to your inbox.