NAVIGATING BREXIT
Need practical advice on navigating Brexit?
Discover our practical steps for business leaders
The FD-CEO relationship should be a perfect double act, one that sees a business through difficult times. We spoke to five FDs to see what they need from their CEO.
It's arguably the most important relationship around the boardroom table. When it works, your finance director (FD) will offer both strategic support and a vital commercial and financial lens. But if this key relationship becomes fractured, the whole organisation can suffer or even fail.
Here, five finance chiefs reveal what makes the CEO-FD relationship work most effectively for them. We've also added some corresponding action points for CEOs to make the most of their finance director's skills.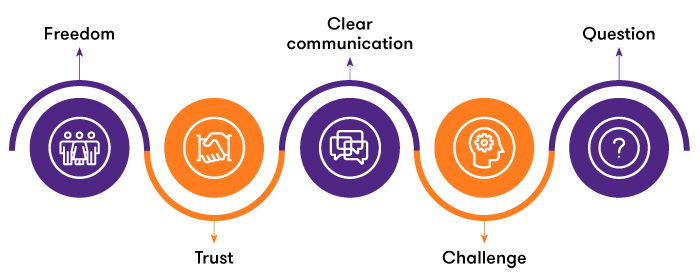 FDs need to flex to suit the CEO's style
Neill Skinner leads the finance team at lender Freedom Finance. In his view, one of the most important skills an FD needs is the ability to flex their style to complement the CEO.
"It's a double act," he explains. "If a business has a charismatic CEO, then the FD needs to be the straight-talker. If the CEO is more process-driven, then the FD can bring a little strategic flair. A good FD sees that the CEO carries a huge weight of responsibility on his or her shoulders and they can take the pressure off, share the load and take some of the flak. I've always thought of the FD's role as that of a wingman."
In such unpredictable times the way these two senior directors work together has become even more critical.
Action for CEOs: TRUST
Let your FD flex their leadership style and skills. Trust their judgement when recruiting people to key roles and encourage them to develop their managerial skills by placing them in charge of their team.
Respect the boss but be ready to challenge
Facing a tense market, Richard King, FD of Smith Brothers Contracting, a Yorkshire-based electrical engineering firm, says the relationship with his CEO has to be solid and built on trust. This comes from respecting the CEO as the boss, but being prepared to offer challenge.
"We face a number of risks [including that] the market can dry up very quickly if the cost of money goes up. If inflation rolls, for instance, and the cost of money rolls at the same time, we could have a real problem.
"You've got to be able to put your view across in a language they understand, so they agree with you. I always make sure people have understood my point. If they don't, I'll explain it another way until they do."
Action for CEOs: CHALLENGE
Give your FD opportunities to challenge your thinking and feel comfortable doing so. You'll gain valuable new insight into problems while empowering your FD.
The CEO room – take time to think critically
Break away from day-to-day operational demands and focus on the key strategic, financial and leadership issues for your business.
Be crystal clear when presenting financials
Smita Bhat, finance head of London-based John Russell Architects, echoes the additional pressures caused by volatility. "The current uncertainty is over and above the usual boom-and-bust cycle, and is reflected in markets," she says. "We're looking at much smaller and shorter projects because we can only deal with the immediate period and aren't able to do more investment planning for the future."
This increased contract churn has implications for the FD, who may find themselves under greater pressure from the CEO to offer ideas and provide workable solutions. It also makes life more difficult for the CEO and the whole business. Longer-term plans become more challenging to make, causing CEOs to think twice before investing in capital projects or hiring staff.
"I have to be more adaptable in how I present information to the CEO, because less is more when you're talking to people who aren't accountants," adds Bhat. "FDs don't need to present everything; they just need to be concise. And set aside ego. My job is to present the facts as they are and not to let emotions get in the way."
Action for CEOs: CLEAR COMMUNICATION
Good communication works both ways. Make sure the channels are clear and open.
Have an open and honest dialogue
Nic Redfern, finance head of knowyourmoney.com, says that CEOs need to recognise the impact of uncertainty on their finance team. The best way to achieve this understanding is open and honest dialogue.
"I always try to arrive at a point where we can shut ourselves away in a room and the CEO can say everything they're worried about. They should be able to let their guard down with the FD, to talk about the genuine challenges they're facing. That way I can either reassure them or come up with some practical solutions," he explains.
FDs are often the main guidance for CEOs to understand how economic headwinds might change their market.
Redfern says this function of assisting the CEO to achieve growth objectives is an undervalued one for many senior finance staff. "The FD's role is about facilitating business growth and that can mean dealing with the risks that arise from pushing ahead. Sometimes it's about challenging ideas. But that only works when there's a high level of trust and openness in the business."
Action for CEOs: QUESTION
Regularly question your FD, as there will be a lot you can learn from them. Make the most of their specialist knowledge and expertise by giving them the resources and tools they need.
Built trust and strategy – together
The CEO-FD relationship works best when the two roles are complementary, says Redfern, with the relationship evolving over time into more of a yin-and-yang type relationship.
"There's no point the FD focusing entirely on risk. And the CEO shouldn't have to sell their ideas to the FD. It works best when you're genuinely working through risks together. Then they can emerge and push the strategy forward."
As for strategy, developing business models used to be seen as the role of the CEO. But today's FDs are central to these decisions, taking on an internal advisory role. Naturally, for this relationship to work, CEOs need to be prepared to encourage it.
For David Campbell, Group FD of printing and business consultancy ASL, this agility is built on the strong partnership between CEO and FD. "If you don't work well with the CEO, the business will fail. It's about listening to each other and establishing trust and respect. As the CEO's partner I have to understand their drive to be entrepreneurial. My job is to influence and moderate that spirit. You can only do that if the CEO respects you."
To strengthen ties with their FD, a good CEO should encourage them to throw themselves into the business. "FDs need to get out of the office, understand the business and understand the CEO's perspective and the pressure they're under," adds Campbell. "We have different skills, but being able to listen makes life easier."
Action for CEOs: FREEDOM
Give your FD the freedom to go out and meet people, including your customers and suppliers. By fully understanding your business, your FD will be better placed to advise on strategy.
CEO insights: tailored content for CEOs and business owners
Receive the latest insights to stay on top of the issues that matter to you. Let us help you set the agenda for the year ahead.