The CEO Room is a dedicated, stimulating and interactive space for a one-to-one discussion where business leaders will be able to work on their key strategic, financial and leadership issues free from the distractions of day-to-day operational demands. The CEO Room will help you think clearly, not only about your immediate issues but also your ambitions and objectives and to stress test existing strategies. You will be challenged on existing and established thinking to help unlock valuable insights, consider critical strategic issues and identify solutions that will help to achieve sustainable profit growth.
We have designed The CEO Room to help you most when you face the challenge of a significant change.
Common triggers are:
➔ A change of leadership or owners
➔ A period of significant market and/or regulatory change
➔ Preparation for a capital markets transaction
➔ Preparing for a refinancing
➔ Tough trading and a restructuring
➔ Integration of acquired businesses
➔ New market entry
➔ A crisis of reputation.
To facilitate free thinking, a CEO Room discussion is free of charge. Download our brochure to find out more.
CEO room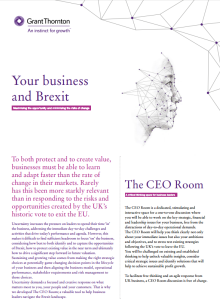 Testimonial
" One of the best 90 minutes I've spent in a long time."
- James Rolfe
Director of Finance
Enfield Council
Getting started
For further details or to book a workshop, please email us
Locations
The CEO Room is based in Grant Thornton's offices at the following locations:
Coming soon: Leeds
For further details or to book a workshop, please email us.