NAVIGATING BREXIT
Need practical advice on navigating Brexit?
Discover our practical steps for business leaders
Finance leaders are currently navigating an uncertain environment and the demands of the finance function continue to grow, but with that challenge comes opportunity.
During our series of CFO rooms, round-table events and other discussions, we spoke to CFOs and FDs to find out where their focus currently lies as they manage the challenges of today and plan for the opportunities of tomorrow.
Where do you focus your time now – and where should you focus?
We've summarised the different areas of focus for finance into the four quadrants of the CFO Scorecard laid out below: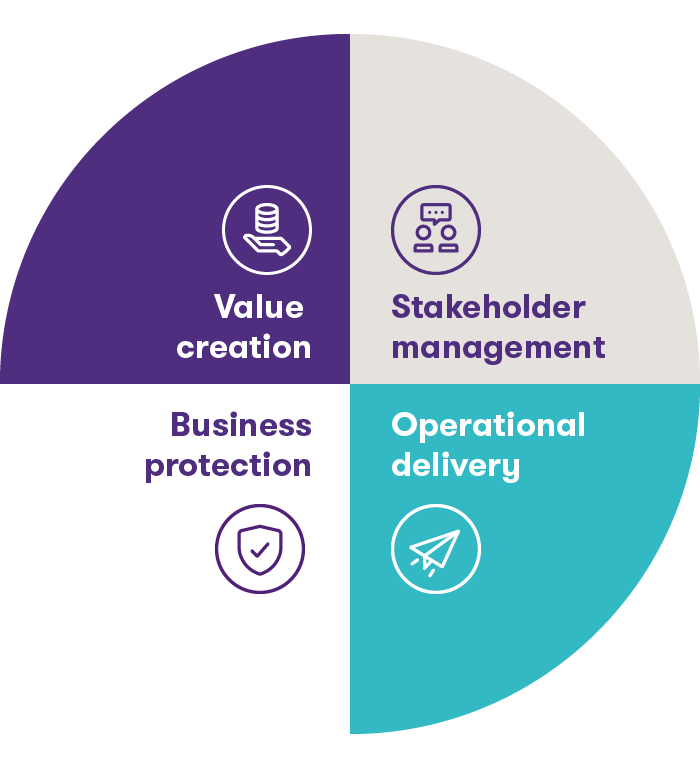 Stakeholder management
Build a hybrid workplace, suitable for the needs and wellbeing of all colleagues and employees
Invest in people, supporting them to upskill in key areas such as data analytics, coaching, business partnering, and digital skills
Support 'customers' of the Finance team through change, including partnering with specific departments or functions

Operational delivery
Improve the efficiency and scalability of processes, including consideration of Robotic Process Automation (RPA), Low-code platforms, Power Automate, outsourcing, and other options
Use data analysis to steer the business pro-actively in the right direction to consider new ideas and make the right decisions
Analyse your costs and profits to understand true margin, taking into account all direct and indirect costs

Business protection
Strengthen internal controls reporting and corporate governance in light of UK Audit and Corporate Governance white paper
Improve cyber security measures and controls to suit the needs of a hybrid workplace
Consider company reputation around topical matters such as Environmental, Social, and Governance (ESG), including the wider supply chain, government reliefs and tax matters

Value creation
Take advantage of a booming M&A market; be ready for opportunistic acquisitions and disposals; start IPO or Exit preparations early
Take a flexible, agile and nimble approach to plans and change programmes to balance quick wins and fast failures against medium and long term improvement
Invest where ROI is clear, and maximise tax savings in plant and machinery and R&D
Discover our latest insights covering the key areas on the agenda for finance leaders
Article
Four dilemmas for private company CFOs in 2021
Article
Decision time for business leaders on future operations
Article
What do I do with all this empty office space?