NAVIGATING BREXIT
Need practical advice on navigating Brexit?
Discover our practical steps for business leaders
An uncertain landscape means challenging times for UK's businesses, but with that challenge comes opportunity.
Finance leaders are currently navigating an uncertain environment and the demands of the finance function continue to grow. During a host of CFO rooms, round-table events and other discussions, we spoke to CFOs and FDs to find out where their focus currently lies as they manage the challenges of today and plan for the opportunities of tomorrow.
Where do you focus your time now – and where should you focus?
The demands on a finance function continue to grow, especially during times of change or transaction.
We've summarised the different areas of focus for finance into the four quadrants of the CFO Scorecard laid out below.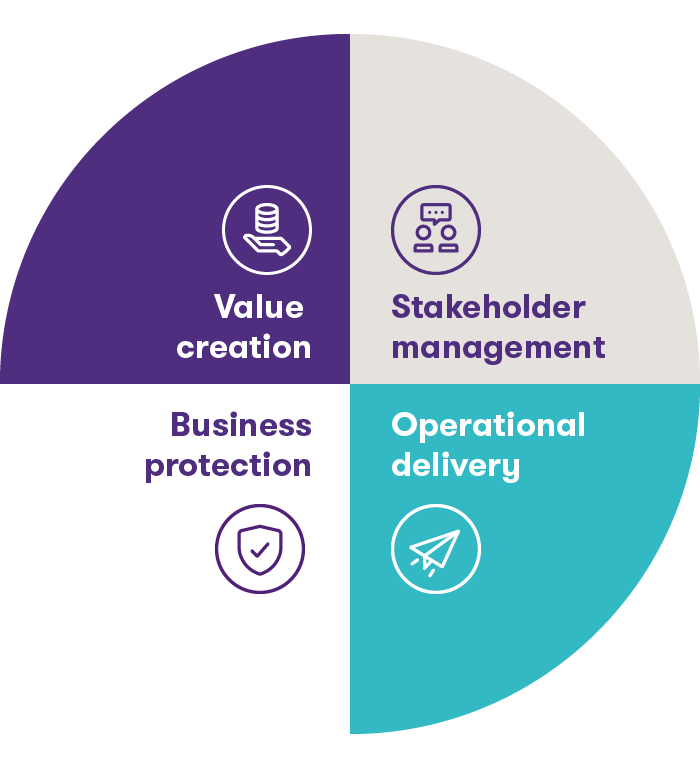 Value creation
Helping to redefine the purpose and strategy of the business – leading into scenario planning and revisions to the Operating Model
Accelerating the improvement in quality and timelines of data and information to enable better informed decisions
Identifying areas to improve working capital with cost reduction and cash savings and tax planning

Stakeholder management
Identifying how to support the organisation through change, including partnering with specific departments or functions
Selling the story of the organisation to funders, suppliers, and customers
Building the team of the future (with an eye on changing skill needs, retention, and succession) while providing support to all employees including any on furlough

Operational delivery
Continuing to deliver the necessities, despite remote working or reduced headcount
Improving processes and automation – for efficiencies and business continuity – including consideration of RPA, AI, outsourcing and cloud migration
Maintaining clean and accurate data to aid forecasting, scenario modelling

Business protection
Monitoring and managing cashflow to ensure future requirements (including payment of deferred balances) can be met
Co-ordinating, driving, and managing the impact of change (PMO) and mitigating of risk
Investigating new investment projects which strengthen resilience and prospects
Improving the quality of cyber security, strengthen supply chain resilience, and updating corporate governance accordingly