NAVIGATING BREXIT
Need practical advice on navigating Brexit?
Discover our practical steps for business leaders
Finance leaders are currently navigating an uncertain environment and the demands of the finance function continue to grow, but with that challenge comes opportunity.
During our series of CFO rooms, round-table events and other discussions, we spoke to CFOs and FDs to find out where their focus currently lies as they manage the challenges of today and plan for the opportunities of tomorrow.
Where do you focus your time now – and where should you focus?
We've summarised the different areas of focus for finance into the four quadrants of the CFO Scorecard laid out below: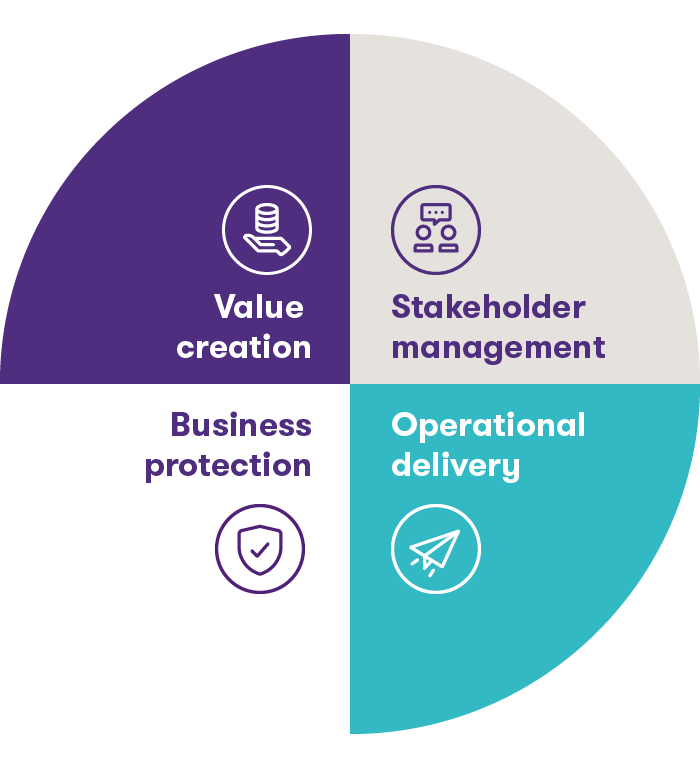 Stakeholder management
Support the organisation through change, including partnering with specific departments or functions

Plan for returning to the office and managing those who wish to continue to work from home

Build the workforce needed in the future with an eye on digital skills, coaching, retention, diversity, inclusion and succession planning

Operational delivery
Accelerate improvements in the quality and timeliness of data to enable better-informed decisions, and aid forecasting and scenario modelling
Improve processes and automation for efficiency and business continuity, including consideration of robotic process automation (

RPA)

, AI, outsourcing and the cloud
Prepare for increased audit scrutiny and narrative reporting requirements

Business protection
Update risk registers and capturing key risk indicators (KRIs)
Ensure robust audit trails for CJRS claims and any NMW impact
Monitor and manage cash flow to ensure future requirements can be met, including payment of deferred balances
Improve the quality of cyber security, strengthen supply chain resilience, prepare for Brexit, and update corporate governance appropriately

Value creation
Redefine the strategy and operating model of the business to protect against the future or make the most of opportunities

Reduce costs and save cash via working capital management and tax planning

Launch investment projects to get 'future fit', strengthen resilience, improve innovation and enable agile M&A
Discover our latest insights covering the key areas on the agenda for finance leaders
Article
Four dilemmas for private company CFOs in 2021
Article
Decision time for business leaders on future operations
Article
What do I do with all this empty office space?