NAVIGATING BREXIT
Need practical advice on navigating Brexit?
Discover our practical steps for business leaders
​Financial services firms stepped up during 2020, but careful management is now required to help businesses thrive as the country moves forward. Chris Laverty looks at how we helped you to be there for your clients, and what we can do for you in 2021.
The financial services sector was key in getting the country through the events of 2020. Most prominently, it provided forbearance measures, while some lenders became conduits for government support schemes.
In 2021, financial services firms will have to deal with the long-term ramifications of the response to COVID-19, together with an uncertain economic environment and ongoing regulatory pressures.
Together, we can overcome whatever 2021 has in store. So, let's look back at what we achieved in 2020 and what we can do for you in the coming year.
Our highlights in financial services

Discover our key credentials in the sector
The state of the financial services sector
In 2020, many financial services businesses suffered both operationally and financially due to the challenges of lockdown, including an almost overnight shift to remote working, regulatory forbearance measures and underlying borrower performance issues.
Government support schemes were largely successful in staving off increased levels of insolvencies. As this support starts to unwind in 2021 and deferred payments become due, we're likely to see an increase in stress across this sector.
Many companies will be seeking further capital repayment holidays, covenant waivers and further borrowing. It's inevitable there will be a rise in defaults and continued retail consumer pain, leaving lenders to make difficult decisions. Liquidity constraints and wider balance sheet concerns are likely to continue for some time.
Financial services firms will also face continued challenges driven by regulatory intervention and increased monitoring across certain subsectors.
As an example, the Financial Conduct Authority's (FCA) Woolard Review into the unsecured credit market has made several recommendations. The most notable is for the Buy Now Pay Later sector to be brought under the FCA's remit, but also other recommendations around relending practices and more-prescriptive forbearance guidance.
Other issues that could impact financial services business in 2021 include non-performing loans, a lack of support from capital providers given uncertain market conditions, and challenges around financial and operational resilience.
Case study
BrightHouse
BrightHouse was previously the largest provider of rent-to-own (RTO) products in the UK. We were engaged to provide contingency planning advice and board support, and were subsequently appointed administrators to manage the wind-down of the RTO, cash lending, servicing and warranty business as part of the recovery from creditors.
Shortly before our appointment, the mandated closure of all retail stores had caused uncertainty for customers as to continued product, payment and product servicing issues. This meant that our strategy had to be multi-fold and rapidly deployed.
Our team took control over operations and shifted the group to full remote functionality. We devised strategies to safely continue best practices within government guidelines, including remote repairs and doorstep collections while ensuring positive customer outcomes and collections performance. We also engaged with the FCA and developed a comprehensive communications plan to update the creditors.
Despite the challenges, our response has been instrumental in supporting BrightHouse customers and, ultimately, maximising creditor recoveries.
How we help our clients
Protecting value is at the core of what we do. Working directly with financial services firms, as well as lenders, shareholders and regulators, we can help you overcome the challenges you face.
We provide the full range of turnaround services including options analysis, contingency planning, cash flow forecasting, independent business and pre-lend reviews. Our team also advises on AMA processes, debt advisory and refinancing services, as well as solvent eliminations. We help with wind-down planning and provide the full range of statutory insolvency appointments.
Find out more about how our financial services restructuring and insolvency team can support you.
Award
We were awarded the Creditor Engagement Award at the 2019 TRI Awards.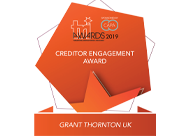 Creditor engagement award