In an evolving world, we help you reimagine your operating models, technology, processes and operations – and provide the transformation engine room to ensure success.
Transformation, by its very nature, is hard – and change doesn't happen in your comfort zone. You need a transformation partner who can listen and support you to solve the complex challenges you face, guide you to seize opportunities and drive your transformation through to completion.
Whether you're at the start of a programme, need help along the way or even post programme, our people-centred approach and nature ensures lasting, empathetic and impactful change.
Experience-led

People-centred

Future-focused
Experience-led

With decades of transformation expertise, both in business and in consulting, we're dedicated to helping you achieve your goals.

People-centred

We foster collaboration, listening and understanding, partnering with you and putting people at the heart of your transformation.

Future-focused

We'll always share the art of the possible so you're bold and brave in driving change that makes a meaningful impact.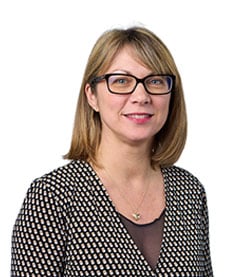 Get in touch
Head of Business Transformation
Why Grant Thornton
We don't deliver change to you; we deliver change with you – working closely and empathetically to bring you and your people on the journey with us.
Clients often tell us that we understand their challenges and deliver tailored solutions that align with strategic objectives.
We've delivered long-term value in our previous engagements, from large-scale transformations to adapting business structures. We define the right solution with services that are completely bespoke to your organisation.
Safeguarding a food and beverage manufacturer's supply chain
A fragmented global operating model, inefficient in delivering the ambitious vision of the business and unable to feel the benefits of a significant in-flight programme.
Financial impact modelling and implementing mitigating measures led to a range of possible solutions. We then recommended an optimal operating model to support the chosen option.
We were able to drive client value and help safeguard the supply chain, along with advising on an optimal operating model to spur efficiency and accuracy in executing the solution.
Delivering a best-in-class transformation office for a retailer
As part of a complex transformation programme to support its business ambitions, a major retail client required a robust transformation engine room to help drive value.
We designed and implemented a best-in-class operating model, emphasising value-adding activities with the agility to execute the largest transformation programme cost-effectively.
Comprehensive transformation management support – enhancing risk mitigation, ensuring transparency up to board level and offering useful insights that informed business decisions.
Implementing a transformation programme to deliver benefits
After acquiring a pharmacy business, our pharmaceutical client needed to transform its operating model for dispensing over 30 million prescription items annually across 800 stores.
We helped plan, coordinate, enable and implement the transformation programme. We established a structure and a dynamic financial model to underpin phased delivery of benefits.
Significant cost savings and successful implementation of a transformative, market-leading operating model supported by technology and a new purpose-built organisation structure.
What's driving your need to change?
"We need to transform because our cost base is too high"
"We need to change because we can't attract and retain the right people"
"We need to transform because our technology is out of date"
"We need to change because there's a growth opportunity present in the market"…
Wherever you are on your transformation journey, whatever your challenges, if you're struggling to realise the benefits then our highly skilled and collaborative teams can help you break through to be truly transformational.
How we can help you transform: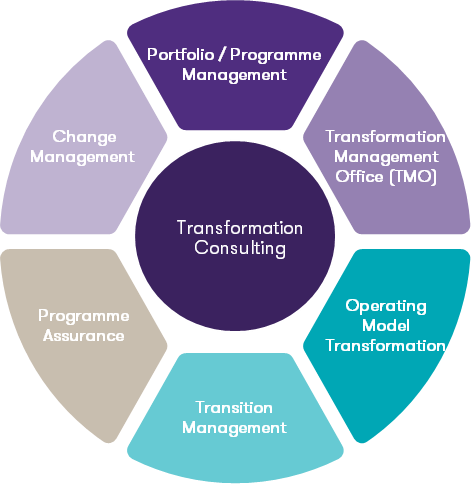 1 Portfolio / Programme Management
Best practice guidance and expertise on how to design and run large-scale transformations, change portfolios and programmes that deliver the intended benefits within time, scope and budget.
2 Transformation Management Office (TMO)
Support with establishing, running and improving the core engine room to deliver successful transformation across your organisation. We also assist with designing and running the overall programme structure, TMO structure and governance, including business case development, programme measurement and tracking.
3 Operating Model Transformation
We work together to design your operating model: defining how your business functions, what capabilities you have – processes, data, people and systems – and when and where to apply them.
4 Transition Management
We prepare you for the transition back to business-as-usual after a large-scale transformation, for example, supporting resource re-deployment, centres of excellence design and setup, and continuous improvement processes design and deployment.
5 Programme Assurance
We can review and assess in-flight programmes, and make recommendations for improvements, with an ongoing assurance partner role or one-off health check approach.
6 Change Management
We help you engage your people across the organisation to design, deliver and embed the change: practically, culturally, behaviourally and emotionally, with diversity and inclusion (D&I) embedded as a matter of course.
Workshop
Transformation Room: manage change — action success
Many businesses and organisations are reconsidering their goals and strategy. In these half-day virtual workshops our transformation experts share personalised guidance in areas where many businesses need support.
Realise your ambitions for change, growth and success