Around the country, NHS hospitals are rapidly mobilising greater capacity to deal with COVID-19. This is also true of social care departments in local authorities, and NHS Community Services. A big part of the COVID-19 effort is getting medically fit patients discharged from hospital quickly; often into step down, community or social care. Matt Custance explains why anyone who has lived and breathed healthcare planning will know that this isn't easy.
A hospital system can be thought of as a pipeline through which people enter, receive treatment and leave, with some then moving into social care. At the moment, we are temporarily using a wider pipe for healthcare by expanding capacity. But, as you discharge more people into the community, they occupy places in social care – this is not a pipeline in the same way. Once they are placed in care, they are likely to need that place for life, and so the numbers needing those places build up well beyond the crisis that created the need.
In other words, the rapid clearing of space in hospitals is creating a need for more places in social care. This is not a temporary situation that will peak and then subside, but a problem that will continue to worsen. This is the problem currently facing local government and community services providers and it is placing considerable challenges on local government (and NHS community providers). And, of course, if these problems are not quickly resolved, they will bounce back on hospitals as the queue for discharge grows alarmingly.
Pop-up social care
In parts of the country, pop-up social care facilities are being developed because the existing space is at capacity (see below). Local authorities are looking for any vacant space. Hotels are an obvious example that are already widely used. They are generally closed for regular guests but in many cases are currently housing key workers and service users. It won't be a long-term solution, but it provides breathing space.
Estimated occupancy levels across England of care home beds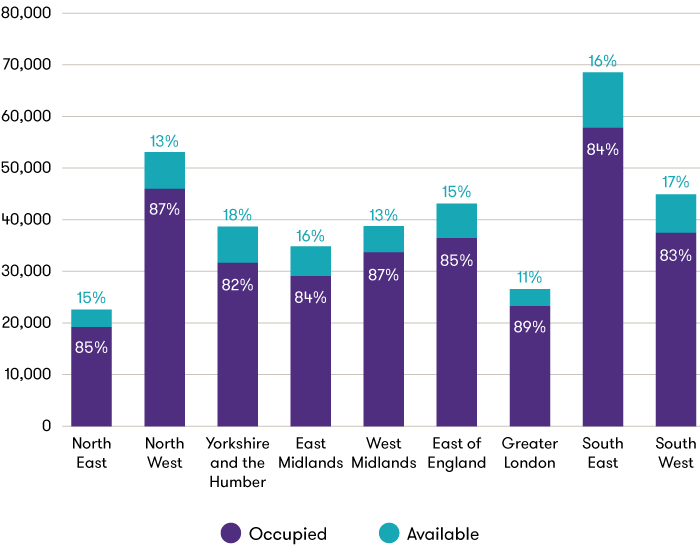 Source: Grant Thornton
While we estimate that there are about 56,000 unoccupied beds in care homes across England, or about 15% of the total capacity, this unused space is both filling fast and does not typically meet the needs of those patients in hospital waiting to be moved to a care home. However, COVID-19 now means that councils no longer have a choice. People need to be moved and care homes need to adapt. Like the NHS, they are having to find ways to cope with running at maximum capacity during a staff shortage. Care workers are having to self-isolate at an increasing rate, due to increased probability of exposure.
In the long term, we expect that all local authorities are going to need to move quickly to build more social care capacity to cope with the aftermath of the crisis. Hotels will start demanding beds back for better-paying customers and the pressure from the NHS will not let up, because they will quickly turn from addressing the crisis to addressing a backlog of elective care, which will stretch from winter 2019 through to winter 2020.
Working together to find solutions
To get through this, the NHS, local authorities and private sector care providers are going to need to work together to convert and build new capacity at pace. This will involve new physical facilities, as well as new ways to provide community and social care in people's homes. For example, at time of writing, Care UK had accelerated the commissioning and occupation of new care homes already built in order to provide an additional 220 places. The NHS will need to look at virtual nursing visits, where this is practical; as will social-care providers. Local joint teams will need to think about whether social-care workers can take on some of the hands-on elements of community nursing and vice versa. Social-care departments, as well as the NHS, will also need to think about whether all service users really need the level of care that they are now getting. This kind of stream-lining and joint working won't be enough to avoid the need for more places, but it might mean that the number of places needed in the short and medium term is more realistic.
Our health and social care specialists work together in the same team. Using our place analytics and social care insights, we can help local public-sector bodies like councils and the NHS deliver local-capacity solutions that work.
Get the latest insights, events and guidance about the public sector and local government, straight to your inbox.
Subscribe here