NAVIGATING BREXIT
Need practical advice on navigating Brexit?
Discover our practical steps for business leaders
The demands on a finance function continue to grow, especially during times of change or transaction.
There remains a fundamental expectation that a finance function will deliver the 'traditional' or core responsibilities of operational finance, such as the maintenance of ledgers or the business protection activities that safeguard the organisation and its budget. More and more, however, finance is now expected to play a value creation role within the wider organisation, either directly or by enabling improved performance. Dealing with all of those demands can emphasise the importance of stakeholder management. We summarise those competing priorities in our CFO Scorecard shown below.
At different times, the relative focus placed on each quadrant by a Chief Finance Officer (CFO) or finance may differ. Knowing where that balance should lie can be key to developing and maintaining a successful finance function. The CFO Scorecard therefore helps to define the current and future role of finance.
The CFO Scorecard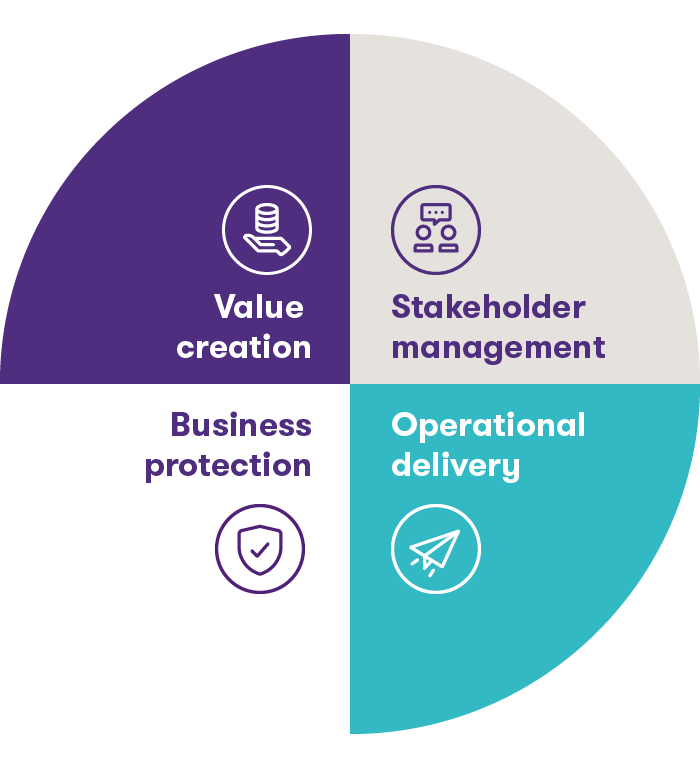 Defining the four quadrants of the CFO scorecard

Value creation
Helping to generate value for the organisation through delivery of insights, involvement in strategic decisions, and leadership of change initiatives.

Stakeholder management
Identifying and balancing the needs of relevant stakeholders and customers of finance, including those inside and outside the finance function.

Operational delivery
Completing core finance function tasks such as transaction processing, ledger maintenance, and statutory reporting.

Business protection
Ensuring appropriate controls, processes and governance are effective to identify and mitigate risks faced by the organisation and discharge relevant compliance responsibilities.
The value drivers
Performance in any single quadrant relies on the value drivers that form the finance function itself. These drivers, shown below, are the characteristics and infrastructure of the finance function, or in other words the operating model for finance. While they can each be taken in isolation, the interaction between these drivers and enablers is also important. As an example, the design of a process should take account of the systems to be used and the organisation within which it needs to operate.
Strategy -

what is the vision for the function and what role will finance play in the business?
Reporting and information -

what are your management information and decision support requirements?
Leadership, people and culture –

what does the future of the function look like and how do you deliver your talent strategy?
Process and controls –

how do you execute processes, identify responsibilities and control risks?
Systems and data -

what enabling systems are required and how do they interact with other business systems?
Organisation –

what is the optimal structure and where should it be based?
Change readiness and delivery -

how will delivery of change and "business as usual" be managed, resourced and governed?
If the role of finance needs to change within your organisation, or if the value drivers to enable the team are not quite right, then we can work with you to explore the topic further and help you improve the effectiveness of your finance function. We can:
facilitate a

CFO Room

to help an individual CFO or FD create their own clear plan ahead
complete a finance function

health check

to clarify how an organisation can move forward
compile quantitative

bench-marking analysis

to compare your finance team to a relevant peer group
support with a range of other areas, such as process improvement and skills planning.
For more information, please get in touch with Simon Davidson.