Transfer pricing manager Kari Hiestand tells us how her Grant Thornton career path has led her from Detroit to London, and a newfound love of Heinz baked beans.
If I had to describe my role to a six-year-old, I would say I help companies working in different countries figure out how much money each country should earn, and therefore how much tax they should pay.
Every day is different – I spend most of my time collaborating on projects with my team and speaking to clients. On any given day, I'm likely to work on a handful of different projects to keep everything moving along, which can be challenging, but also keeps me on my toes!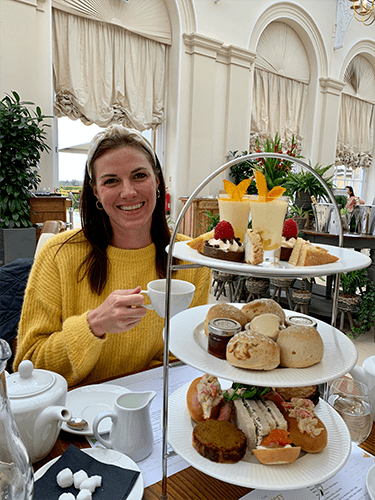 By far my favourite part of my job is getting the chance to work with diverse people from all sorts of backgrounds and nationalities. In transfer pricing we do a lot of work with Grant Thornton International (GTI) member firms, which is great fun because you get exposure to different perspectives and ways of thinking about things. I'm really proud of the strong international network I've built during my eight years in GTI.
I grew up in Michigan, United States and always lived in the Mid-west during my time in the US. I joined Grant Thornton LLP, the US firm, as an auditor in the Detroit office for almost two years, before transferring to the Chicago office. My career progression naturally led me to transfer pricing.
I moved to the UK on a 12-month secondment in London in 2019, and then extended it for an additional year. My husband and I are lucky that both of our jobs allowed us to access opportunities abroad.
My two-year secondment experience was overwhelmingly positive – so much so that I decided to transfer to the UK firm permanently when it ended in July 2021! The team really embraced me from the start and made it so seamless for me to get stuck in.
I love seeing tangible results from my hard work. My favourite project I've worked on was a transfer pricing and diverted profits tax enquiry that spanned more than a year. This was the first enquiry project I have been a part of and it was very rewarding.
I would say the biggest similarity between the US and UK firms are the culture and type of people that Grant Thornton attracts. Everyone is so down-to-earth and it's been so easy to make great friends in my time here.
One of the things I love about living in the UK is constantly learning new British phrases and teaching my British friends the American slang equivalents. I started a spreadsheet (as one does!) to track everything, and there are some real gems.
Something I do miss about living in the US is the abundance of amazing Mexican food – it's so hard to find a halfway decent taco in this town!
My biggest piece of advice to anyone thinking about doing a secondment is to approach it with an open mind and really embrace different ways of thinking and doing things. Dive into the experience headfirst and challenge yourself to not shy away from uncomfortable situations.
Doing an international secondment and living abroad were always my biggest goals from day one of starting my Grant Thornton career and I'm really proud of myself for taking the initiative to make it happen…all while persevering through COVID-19, 4,000 miles away from my entire family and close friends!
The best thing to happen to me this year was getting married - after quite a delay due to coronavirus, I finally got to have all of my wedding celebrations after being engaged to my partner for almost three years. In January we also moved to a new flat with a big garden and I've enjoyed putting my green thumbs to the test by trying to keep all of my plants alive
One of the many surprising discoveries I've made since moving to the UK is a newfound obsession with Heinz baked beans. Beans on toast with cheese is easily my favourite British delicacy - I like to call it 'British pizza'!
My mum has always reminded me to embrace my goofiness and not take myself too seriously. This has really stuck with me and is something I try to remind myself of on a daily basis.
Delivering high quality work means… working together, always putting your best foot forward and remembering to have confidence in your abilities.
Valuing diversity through everyday inclusion