Chinese companies continue to make a significant contribution to the UK economy.
Now in its ninth year, the Tou Ying Tracker report, developed in collaboration with CCCUK (China Chamber of Commerce in the UK) and China Daily UK, confirms once again the growing contribution of Chinese companies to the UK economy.
This year, our annual survey of the latest trends in Chinese investment in the UK identifies over 845 Chinese companies that qualify for inclusion in our Tou Ying Tracker. Together, these companies have combined revenues of £63 billion (down from £92 billion for the 838 companies identified in 2020). They report overall revenue growth of 5% (down from 12% in 2020). Between them, these companies employ 60,945 people in the UK (down from more than 75,000 in Tou Ying Tracker 2020). Figures saw a slight dip due to a number of economic headwinds, including the COVID-19 pandemic and unresolved Brexit arrangements.
We celebrate the success of all companies appearing in this year's Tou Ying Tracker and congratulate them on their outstanding contribution to the UK economy.
Tracker expands again
This is the fourth consecutive year of growth in the number of Chinese businesses in the Tou Ying Tracker. Economic uncertainty clearly saw Chinese businesses take a cautious approach to expansion during the year. At the same time, the many new entrants on the list of the 30 fastest-growing companies (by revenue) come from seven highly innovative sectors and show that Chinese companies in the UK are developing new revenue streams and connections rapidly.
Download the report
Download PDF [3283 kb]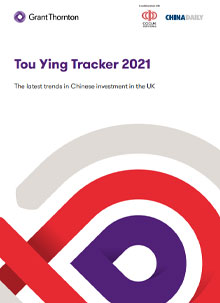 Get the latest insights, events and guidance for Chinese businesses in the UK, straight to your inbox.