Celebrating generations of diaspora success
The second edition of our India in the UK: the diaspora effect report dives deeper into the contribution of the diaspora in and beyond business. It looks at the prominence of diaspora Indians and a new generation of British Indians in the fields of business, arts, science, sports and politics.
The impact of the UK's vibrant Indian diaspora isn't confined to business. With their talent and determination, members of the diaspora have also made remarkable contributions in fields such as politics, science, and medicine, research and innovation, academia, the arts, medicine, law, and sports.
Through our intensive desk research and one-to-one interviews with Indian businessmen and women, we've explored the personal and professional attributes that have brought them such success in their respective sectors. Our analysis of the statistical data available also looks at the geographical spread of the Indian diaspora across the UK and how this is changing each year.
A growing contribution
Indian entrepreneurship in the UK began many decades ago. Since the 1950s, Indians have come to the UK and contributed to the country's economic development. As well as taking up significant posts in government, academia, finance, and politics, the Indian diaspora has also shown a natural flair for business, with many members setting up family businesses.
Anecdotally, this stems from inherent trading skills and the determination of immigrants to improve their lives. A possible additional explanation for this phenomenon could be the barriers to career progression that even the most successful professionals of Indian origin experienced in the UK when they arrived.
Sector focus
The report takes a deep dive into the sectors where diaspora-owned businesses are making a sizable impact in the UK. These tend to be concentrated in the following key sectors:
healthcare
food and beverage
hospitality and real estate
pharmaceuticals and life sciences
retail
This focus reflects the natural inclinations of the diaspora towards real estate, trading, and medicine. The report features a series of interviews with leading diaspora entrepreneurs, both those running established businesses and others breaking new ground.
Download the report
Download PDF [1818 kb]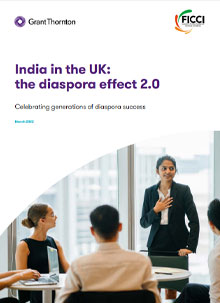 Get the latest insights, events and guidance about Indian markets and businesses, straight to your inbox.