Catch up on the latest news and updates affecting the higher education (HE) sector, as well as some best-practice reminders when preparing financial statements.
Watch the webinar recording for insights into:
risks facing the HE sector – including cyber security and student numbers
areas of financial reporting – such as Financial Reporting Exposure Draft (FRED) 82, the new Statement of Recommended Practice (SORP), holiday pay accruals and investment policies
the increasing importance of environmental reporting
Download the webinar slides
Download PDF [990 kb]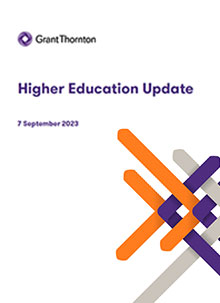 For more insight and guidance, get in touch with Stephen Dean, James McLarnon and Harriet G Raine.
Not for profit: higher education updates, insights and events
Get the latest insights, events and guidance about higher education straight to your inbox.