NAVIGATING BREXIT
Need practical advice on navigating Brexit?
Discover our practical steps for business leaders
Integrated care systems have the potential to be a game changer. In January 2022, The Healthcare Financial Management Association (HFMA) and Grant Thornton hosted a powerful consideration of the role of Integrated Care Systems in accelerating the transformation of health services.
Leading figures from Trust and system leadership and strategy set out the important challenges for the developing ICS leadership teams:
1 Get the accountability right, so that providers in particular are properly aligned on change objectives
2 Join up the data quickly between the organisations within the ICS so that analysis can help us understand how change can prioritise key issues such as health inequalities
3 Understand and address the challenges, including political challenges, of shifting resources to address the greatest health and system needs
4 Ensure that primary care is properly connected into change plans, which needs more involvement than currently, where change actors often don't know enough about what each is doing These challenges are not trivial.
We can already see these objectives worked into robust ICS plans for elective recovery.
To keep you up to date, we have published a full version of the HFMA report.
Read the report
Download PDF [729 kb]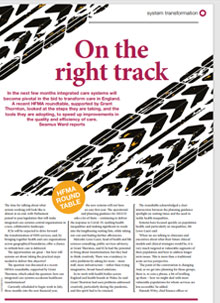 Get the latest insights, events and guidance about the public healthcare sector, straight to your inbox.