We support CFOs to define the role of Finance in their business: so you can understand how it should work and bridge the gap from where you are today.
Our Finance consulting team are here to work with you - to help clarify and communicate your future role with stakeholders, assess how you work, identify a better way, and accelerate your change. That 'better way' will be discovered with you and could be any combination of factors from across the CFO scorecard and value driver frameworks that underpin Finance. We bring deep experience and a broad range of skills, approaches, and accelerators to provide the right blend of support.
We truly collaborate

We're agile

We know best-practice
We truly collaborate

We work we with you, to understand your business and obtain acceptance and buy-in for change.

We're agile

We adapt our support model to fit you. Be that team size, skills, or the balance of 'do vs. review.'

We know best-practice

Our knowledge of regulatory requirements, Finance trends, and other functions enables us to help you achieve your goals.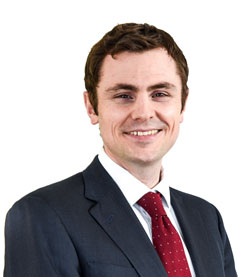 Get in touch
Head of Finance Consulting, Grant Thornton
Why Grant Thornton?
We've been told that our collaborative approach is different. And we believe it lets us do better quality work. Furthermore, guided by our CFO Scorecard and Value Drivers frameworks we cover the infrastructure and characteristics of Finance and how to manage change to make your future happen. We don't solely focus on systems, or data, or process or organisational design. We ensure that all aspects of the Finance operating model work coherently together.
Furthermore, we seamlessly bring in specialists from other teams around us when needed, including colleagues from Architecture and Systems, Data and Digital, Programme Management or Culture.
We're a senior team of qualified accountants who have worked across sectors and in change. As a result we can efficiently deliver the type of clarity you need.
A systems selection process
Our client was a fast-growing private-equity backed business. A problem with the core Finance system was becoming a barrier to Finance and the wider organisation.
We introduced a specification and selection process – ensuring they ended up with the right Finance system. Creating a vendor short list and managing it to a decision point.
The CFO has since implemented one of the short-listed systems on budget and on-time. This has freed up time in Finance, increased control, and improved management information.
An example Target Operating Model design
Following a period of steady growth a listed company commissioned a Finance Function Assessment and Target Operating Model design.
We spent time understanding the Finance function. Together we created the roadmap to sequence and resource the change to the desired end state.
Our client has since completed acquisitions of varying sizes and continues to develop their Target Operating Model.
"Grant Thornton have been flexible, responsive and agile in helping Leonard Cheshire navigate our turnaround plan. They have assisted in bringing additional expertise and capability into our organisation. Grant Thornton have provided strong, independent advice and their team have been engaging and easy to work with. They fully understand the needs of their clients are sensitive in avoiding creating unnecessary pressure. Grant Thornton's expertise have added value to Leonard Cheshire and I would recommend their services and support."
"They always bring a pragmatic approach, delivering what I ask for and not over-complicating or creeping on scope."
FD Intelligence: hot topics, events, and insight for today's finance leader
Get more insights, invites for CFO networking events, and other resources for today's CFO straight to your inbox.
Sign up
Making best-informed decisions guide
Help your business to make best informed decisions - and make them quickly