In March 2021 we published our lessons learned on public interest reports (PIRs).Guy Clifton and Paul Dossett look at subsequent developments.
In the time since our first analysis of auditor interventions on some local authorities, more PIRs have come out. The use of other auditor powers has also increased: eg, statutory recommendations and related actions, such as section 114 powers. While this still affects a minority of councils, the growing trend is a concern, and serves as a reminder that things can go wrong anywhere – with potentially significant risks, including government intervention.
Our findings highlight that not all councils:
exercise appropriate care with public money
exercise appropriate governance
have the capability to manage risk in both the short and long term
remove optimum bias in their medium-term plans.
Over a decade of reduced funding from central government has seen councils become increasingly reliant on generating additional income to support frontline services. This has led to a number of local councils expanding commercialisation and developing different vehicles to facilitate this, including joint ventures and local authority trading companies. Some PIRs have shown that the failure of council-owned companies can have a significant financial and reputational impact on those councils.
This new report considers the key themes from the latest set of interventions:
cultural and governance issues
failure to understand and manage the risks associated with external companies
failure to address and resolve relationship difficulties between senior officers and members
financial capability and capacity
audit committee effectiveness.
Learn more lessons from PIRs [ 1303 kb ]
For more insight and guidance, get in touch with Guy Clifton or Paul Dossett.
Download our report
Download PDF [2147 kb]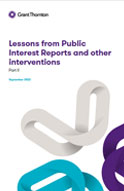 Get the latest insights, events and guidance about the public sector and local government, straight to your inbox.
Subscribe here