NAVIGATING BREXIT
Need practical advice on navigating Brexit?
Discover our practical steps for business leaders
2020 will be remembered as a tumultuous year in local government. The COVID-19 pandemic highlighted four essential factors we probably always knew about local government, have often said, but which are now much better evidenced:
1 Local government has provided fantastic support to its communities in working with the NHS and other partners to deal with the multifaceted challenges of the pandemic.
2 Britain's long centralised approach to government has been exposed to some degree in terms of its agility to tailor pandemic responses to regional and local bodies. This is recognised by the current government who continue to pursue the options for devolution of powers to local bodies. Track and Trace delivered centrally has not been as successful as anticipated and, according to government figures, local interventions have had more impact.
3 Years of reduced funding from central government have exposed the underlying flaws in the local authority business model, with too much reliance on generating additional income.
4 Not all authorities exercise appropriate care with public money; not all authorities exercise appropriate governance; and not all authorities have the capability of managing risk, both short and long term. Optimism bias has been baked into too many councils' medium-term plans.
The Public Interest Reports (PIRs) at Nottingham City Council (August 2020), the London Borough of Croydon (October 2020), and Northampton Borough Council (January 2021) were the first issued since 2016. All three are clear illustrations of some of the local government issues identified above. The audit reports are comprehensive and wide-ranging and a lesson for all local authorities. There are some quotes that seem particularly apposite for all councils to consider. Governance models Local authorities have a variety of different governance models. These range from elected mayor to the cabinet and a scrutiny system approach, while others have moved back to committee systems. Arguments can be made both for and against all of these models. However, in the recent PIR cases, and for many other councils, it's less about the system of governance and more about how it operates, who operates it and how willing they are to accept scrutiny and challenge.
There are a number of lessons to be learned from the recent PIR reports and these can be broken down into three key areas which will be explored further in this report:
1 The context of local government in a COVID-19 world
2 Governance, scrutiny, and culture
3 Council leadership
Download our lessons from recent public interest reports to find out more [ 1303 kb ]" class="btn-primary" aria-label="Download file - Lessons from Public Interest Reports -
Download our lessons from recent public interest reports to find out more [ 1303 kb ]">
Download our lessons from recent public interest reports to find out more [ 1303 kb ]
Download our report
Download PDF [1303 kb]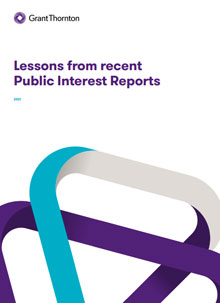 Get the latest insights, events and guidance about the public sector and local government, straight to your inbox.
Subscribe here