NAVIGATING BREXIT
Need practical advice on navigating Brexit?
Discover our practical steps for business leaders
Economic recovery and levelling up is central to the government's plans to build back better as the country emerges from COVID-19. And there's a commitment to ensure a place-based delivery of this agenda that empowers local government and enables strong leadership. The solution is 'County Deals'.
These deals will build on the government's support of high streets, towns, and local infrastructure, by offering longer-term devolution across larger geographies. The 'guiding principles' are strong local leadership, devolution across 'sensible' economic geographies, appropriate governance, joining up services, innovation, and financial and administrative efficiency.
To support this initiative, the County Council Network has delivered a report scoping out the foundations for successfully implementing these deals.
Define a 'sensible geography' – analyse strengths and weaknesses of five different geographic types
Establish appropriate governance models – by assessing the suitability of four different models
Ask for the right mix of powers – as they consider and balance the uniqueness of place, assess ambition and deliverability
To find out how local authorities, and central government, can get the most out of County Deals, download the report [ 15237 kb ].
Download our report
Download PDF [15237 kb]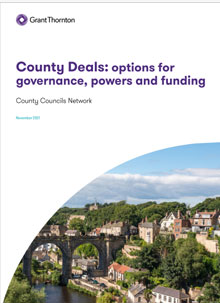 Get the latest insights, events and guidance about the public sector and local government, straight to your inbox.
Subscribe here