NAVIGATING BREXIT
Need practical advice on navigating Brexit?
Discover our practical steps for business leaders
We offer an extensive range of services to automotive sector stakeholders from supply chain through to distribution, retail and usership. With a variety of experience of working and operating within the industry, our team understands what you are looking for from advisers.
Our knowledge of the sector means that we are aware of the key business risks that you face and know the areas to pinpoint to make the maximum impact. Having a team of sector specialists dedicated to the automotive industry means that we can rapidly understand both macro and local issues and provide relevant and practical recommendations to you. This sector relevance has enabled us to help clients to make long term and positive changes to their businesses.
We acknowledge, unlike a lot of our competitors, that the industry is complex and to ensure that effective skills are applied to assignments, we have focussed our teams separately between the downstream and upstream specialisms, whilst retaining our over-arching, sector credentials. We also have senior OEM advisers working within the team to support and provide commercial insight.
We have dedicated sector specialists in both upstream and downstream working in the following areas:
strategy
business consulting, including operations, IT and finance
corporate finance and transaction advisory
audit and assurance
dedicated taxation team
restructuring
Value Chain Roadmap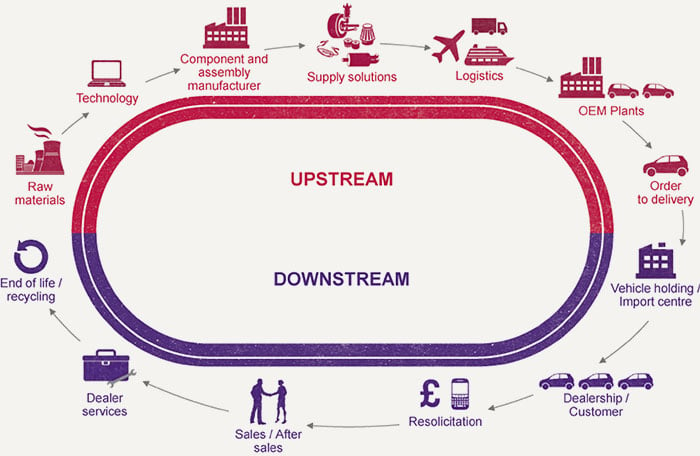 We know that you cannot look at just one element of the value chain in isolation without understanding the interaction of all stakeholders within the process. This end-to-end knowledge and understanding of the chain allows us to provide relevant and appropriate advice which considers all the challenges faced.
We work with clients at every stage of the automotive value stream, from assisting businesses within the supply chain to meet the demands of their customers, to helping distribution and retail channels to profitably manage vehicle volume and demand throughout the whole vehicle ownership cycle and with adequate cash resource management.
We are a global team with the ability to call on technical experts worldwide, enabling us to support our automotive clients to operate in an increasingly international environment. Combining local knowledge with our international strength means that we can support you with operations anywhere in the world.
Get the latest insights, events and guidance about the automotive industry, straight to your inbox