NAVIGATING BREXIT
Need practical advice on navigating Brexit?
Discover our practical steps for business leaders
Despite an unsettled environment for business over the past year, Indian companies continued to make a significant contribution to the UK economy. Anuj Chande summarises our India Meets Britain tracker 2020, which delivers strong evidence of the enduring partnership between the two countries.
Our research has identified almost 850 Indian companies operating in the UK, with combined revenues of £41.2 billion. Together, they paid £461.8 million in corporation tax and employed 110,793 people. While the revenue and tax figures are lower than for 2018, they still remain strong in the context of Brexit uncertainty through 2019, and a challenging business environment for India during the same period.
Fastest-growing Indian companies
Each year, the India Meets Britain tracker, developed in collaboration with the Confederation of Indian Industry, identifies the fastest-growing Indian companies in the UK. This year, 72 companies, up from 62 in 2019, achieved an annual growth rate of 10% or more. Between them, these fastest-growing companies earned total revenues of £3.8 billion. And their average annual growth rate accelerated to 40%, up from 37% in 2019. A full list of the UK's fastest-growing Indian companies is included in 2020 India tracker.
Fastest-growing sectors in the India Meets Britain tracker
Technology and telecoms companies dominate the tracker for the seventh year in a row, accounting for 38% of 2020 tracker companies. Pharmaceuticals and chemicals, and engineering and manufacturing, are also well represented, accounting for 15% and 14% of tracker companies respectively.
As in previous years, London is the preferred location for Indian companies based in the UK. This year, 54% chose the capital as their base, with the north attracted 14% of companies and the south, 11%.
Download the India meets Britain Tracker 2020
Download PDF [1790 kb]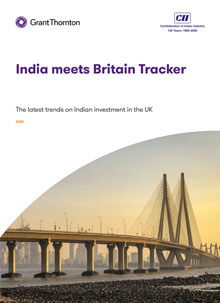 Get the latest insights, events and guidance about Indian markets and businesses, straight to your inbox.