Changes to business systems can be complex and prone to failure. Plan for success with help to evaluate, select and implement software solutions, and facilitate all related organisational changes.
To fully realise the benefits of your business systems, you need a roadmap of where you are today that will take you to where you want to be tomorrow. We'll help you define and close this gap, manage the change and implement a solution that will deliver your goals.
Our experienced team can support you across all stages, including: functional and technical evaluation, selection methodology, risk assessments, change management, testing, data conversion, vendor checks and contract negotiation.
Fast-start approach

Pragmatic assessments

Focus through challenge
Fast-start approach

We'll quickly provide you with clear principles and assumptions to facilitate the full system selection process.

Pragmatic assessments

Experienced and independent consultants ensure realistic, unbiased opinions and recommendations of system vendors and system integrators.

Focus through challenge

We consider stakeholder views on critical business processes and ways of working, challenging those that could complicate system change.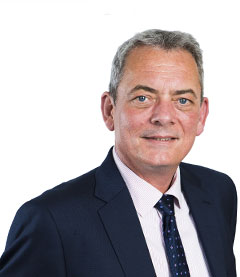 Get in touch
Director, Head of Technology Advisory
The Grant Thornton technology consulting team have transformed our approach to technology projects and guided our future technology thinking. They have really engaged with us and we consider them a trusted adviser.
Receiver General
Canterbury Cathedral
Why Grant Thornton
We're highly collaborative, working alongside senior management and functional teams to guide you through systems selection and implementation programmes.
We listen closely and never shy away from asking the challenging questions that may be holding your organisation back from achieving its goals.
We keep a sharp focus on creating value whether that's bringing industry best practice to your business, proving the value of vendor solutions, identifying risks or helping with contract negotiations.
Systems review for a FTSE 100 construction business
A complex mix of enterprise resource planning (ERP) and finance solutions across operating units weren't delivering fit-for-purpose solutions to support business operations.
Support with specification, selection and implementation of a new ERP solution, providing clarity on changes needed, implementation planning and formal reporting to the board.
Identification of a new ERP solution, addressing immediate needs for improvement in financial processes, master data management and reporting, but also capable of supporting long-term growth plans.
How we help you navigate a systems implementation programme
Any investment in technology must deliver a people, process and systems capability that's fit for purpose to support your business and growth aspirations.
Our high-level framework will help you understand the case for change and derive a plan.
1 Where are you today?
Current operating model
Core capabilities
Functional performance
Constraints & pain points
2 Where do you want to be?
Target operating model
Future business plan
Strategic questions
Opportunities
3 Define the gap
Capability gap analysis
Requirements gathering
Constraint definition (budget/time/resource)
Case for change
4 Develop plan to close the gap
Change roadmap
Target architecture definition
Option assessment
Business case
5 Manage the plan
Change roadmap
Target architecture definition
Option assessment
Business case
Our business systems strategy services:
A comprehensive set of best practice business process models for different industries; functional and technical evaluation criteria and questionnaires; vendor assessment scorecards; solution design architecture models; and total cost of ownership calculators
Selection methodology and approaches that stimulate system providers to showcase and prove the value of their solutions
Guidance and advice on risks associated with shortlisted solution providers
Complete project management from planning through to progress status, budget management, communications and change management plan, business user involvement, testing, data conversion and vendor management
Conducting vendor reference checks and contract negotiation support for service level agreements and contract reviews