The pace of automation in financial services continues to accelerate – leveraging data to solve complex problems
The benefits are clear: greater flexibility, scalability, and productivity alongside improved quality and faster services, but success depends on integrating the technology with your people, processes, and risk management
Intelligent Automation (IA)

Process optimisation
Intelligent Automation (IA)

Intelligent automation (IA) uses data, digital, and automation solutions to streamline processes across organisations. It's delivered by combining robotic process automation (RPA) with artificial intelligence (AI).

Process optimisation

Manual processes that require a lot of employee effort and oversight, are redesigned in a way that the process becomes efficient, self-adaptive and can adjust to new organisational requirements.
Intelligent automation spectrum
Intelligent automation will allow you to switch from rule-based automation to judgement-based evolving processes. The implementation of intelligent automation has a spectrum: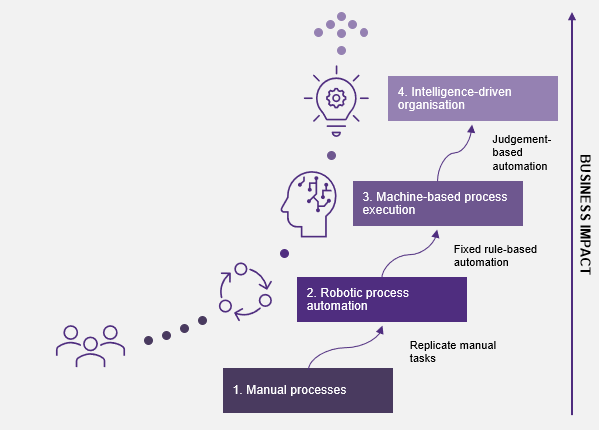 Business Impact
1. Manual processes
Traditional business process management (i.e., Excel macros, batch processing and BPMN)
2. Robotic process automation
Some processes are automated using rules over structured data with a reduction in human supervision
3. Machine-based process execution
Core processes automated using machine learning decision engines
4. Intelligence-driven organisation
Decision engines use deductive analytics, processes learn from human decisions
Why Grant Thornton?
Our intelligent automation services are anchored by a deep understanding of business objectives and value creation. Our tried and tested approach evaluates end-to-end business activities and identifies where to pragmatically infuse process automation, case management and artificial intelligence to deliver enhanced operational improvements that overcome conventional performance trade-offs.
Get the latest insights, events and guidance for financial services professionals, straight to your inbox.