NAVIGATING BREXIT
Need practical advice on navigating Brexit?
Discover our practical steps for business leaders
Over 1.4 million strong, the Indian diaspora is one of the most prosperous and dynamic ethnic minority communities in the UK.
Produced in collaboration with the High Commission of India in the UK and the Federation of Indian Chambers of Commerce & Industry (FICCI), our report shows that the rate of employment among Indians in the UK is higher than among any other ethnic group: more than 50% are qualified to degree level and over 40% work in managerial and professional occupations. It also throws a spotlight on the contribution of the diaspora in areas such as politics and public service, science and the arts, and sport.
Our research indicates that there are 654 Indian diaspora-owned businesses in the UK with a turnover of over £100,000 per year.

Indian diaspora-owned business concentrated in five key sectors
They are focused in five key sectors: hospitality, healthcare and pharmaceuticals, retail and wholesale, real estate and construction and food and beverage. Our research also identifies 23 Indian diaspora-owned businesses that generate 80% of the total jobs provided by this group. Together, these businesses provide over 140,000 jobs.
Combined turnover of major Indian companies in the UK is around £85 billion
When we combine the economic contribution of the 654 Indian diaspora-owned companies with that of Indian parent-owned companies in the UK, as identified in our India meets Britain Tracker 2019, the figures are even more significant. Together, the two groups achieve combined annual turnover of around £85 billion, pay over £1.7 billion in tax and employ almost 280,000 people.
Indian diaspora set to have a growing impact
As the UK seeks to strengthen trading links around the world, there is an opportunity for the diaspora to act as a 'living bridge' between India and the UK. As such, the Indian diaspora's contribution to the UK, which has been growing since the community first put down roots in the country, looks set to become even more significant in the decades ahead.
Download the report India in the UK: The diaspora effect [ 4719 kb ]
For further information about this report contact Anuj Chande.
Download the report
Download PDF [4719 kb]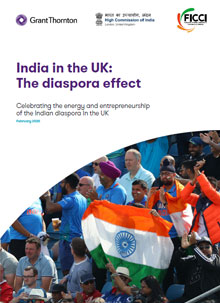 International
Globalisation brings a world of opportunities for your business to explore overseas markets.
Get the latest insights, events and guidance about Indian markets and businesses, straight to your inbox.