What you need to know
The £54 billion online shopping boost during the pandemic has proved temporary, with normal trends now resuming
Over half (54%) of UK consumers are cutting back on discretionary purchases, up slightly on last year (48%)
One-in-three consumers have changed where they shop for regular purchases, switching to cheaper brands or retailers
Do you intend to cut back this year due to the rising cost of living?
Source: Retail Economics, Grant Thornton
The report shows that 69% of consumers are spending more time browsing and researching to find the best deals. Value for money has never been more front of mind. Whether that's in resilient categories like grocery or in challenged sectors like hospitality – consumers are spending but looking for greater value when they do.
Hear how consumers are looking to cut back over the next 12 months
How can retailers attract and retain customers and increase loyalty in such a challenging environment?
Financial resilience and strategies for success
In turbulent times, collaboration and strategic alliances often play a critical role in driving growth. Exploring merger and acquisition opportunities, forging strategic partnerships, and investing in innovative solutions can enable businesses to access new markets, diversify offerings, and deliver competitive advantages.
Consumer behaviour adaption: h

ave you done any of the following in response to the increased cost of living?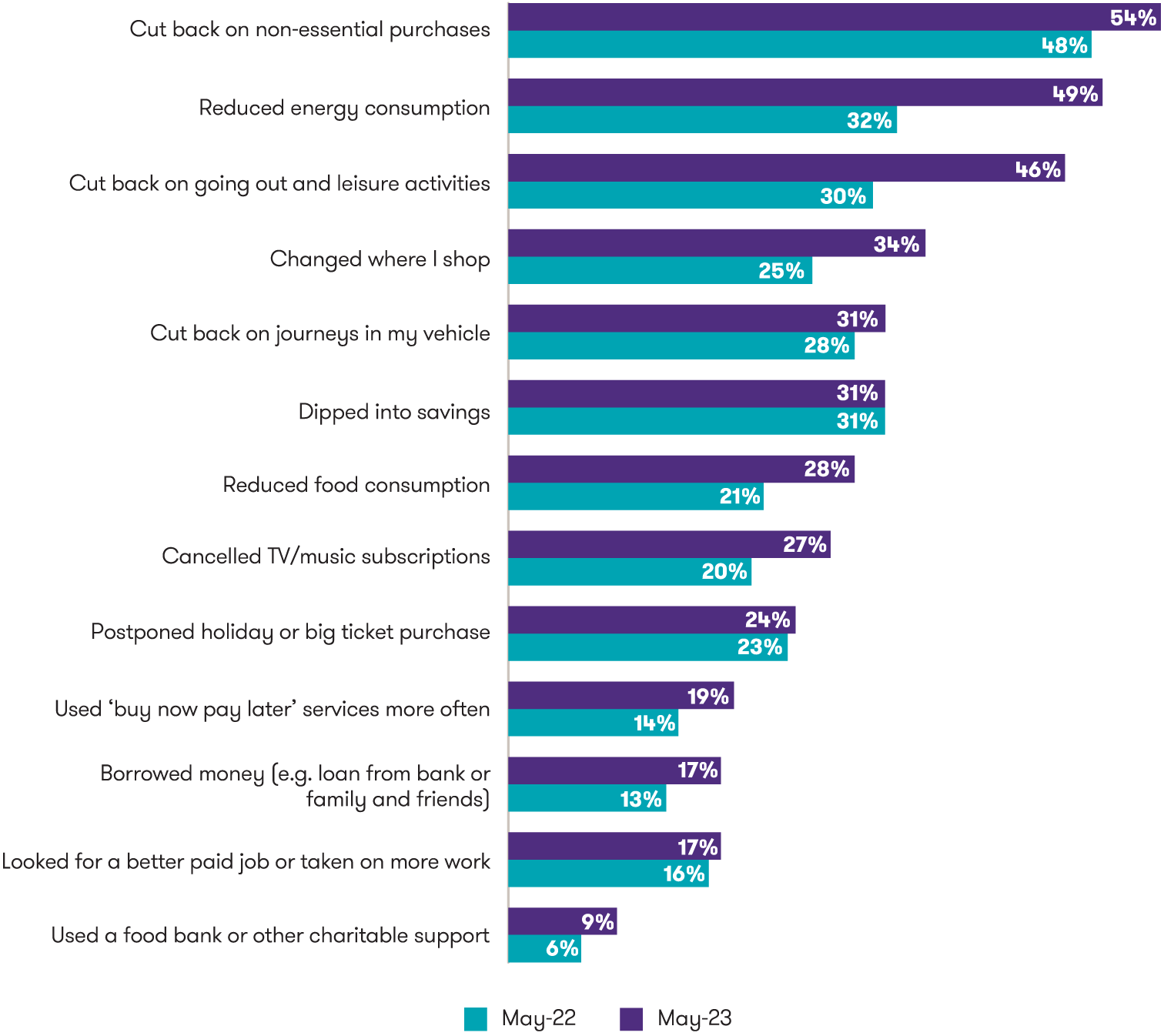 Source: Retail Economics, Grant Thornton
How will access to capital be for consumer businesses over the next year?
What actions should a business experiencing stress take?
How will businesses need to respond to the findings in the cut back economy report?
Our expert panel of authors and contributors discuss the actions businesses can take to respond to the cut back economy and the latest consumer trends.
Our panel:
Nicola Sartori, Head of Consumer, Grant Thornton UK
Richard Lim, CEO, Retail Economics
Alan Dale, Head of Business Consulting, Grant Thornton UK
Kevin Coates, Head of London Restructuring, Grant Thornton UK
Webinar: Cut Back Economy 2023