NAVIGATING BREXIT
Need practical advice on navigating Brexit?
Discover our practical steps for business leaders
Robust analytics programmes to transform data into business and operational insight
We undertake bespoke analytics assignments focused on our clients' specific business needs, challenges and hypotheses. Our suite of methodologies and use cases ensure that this process is efficient and produces relevant insights.
Illumin
Illumin is a structured data environment and data science programme which supports clients to work on their biggest strategic challenges. Framed around our six box model we apply a phased approach allowing you to explore analytics, define your priorities and generate insights.
By working with you and applying different machine-learning algorithms, data science and modelling techniques, we quickly learn from the data and extract hidden insights.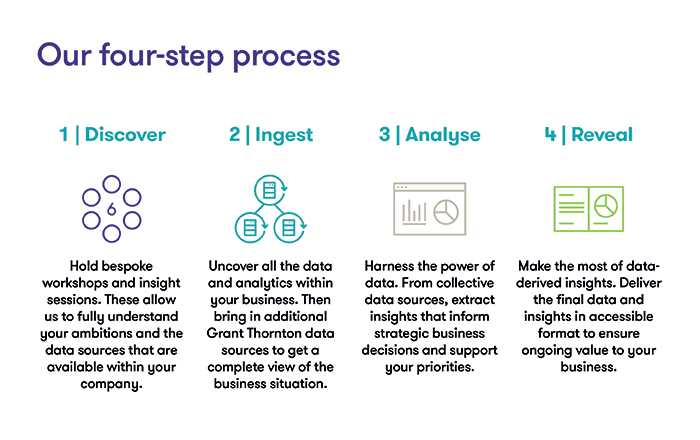 Place and consumer insights
By coupling our extensive place and customer data with optimisation procedures, Place and Consumer Insights helps businesses to:
Right-size their network – improving the effectiveness of your operational network, reducing cannibalisation between existing retail outlets, supporting strategic planning for logistics hubs, minimising risk in future investments, understanding performance variations between locations, developing network blueprints that drive future strategic location planning decisions, and mapping the workforce and skills against requirements.
Customer data analytics - Our application of advanced analytics techniques helps you understand your customer better through segmentation, identification and targeting, supporting effective marketing strategies and campaigns
We also provide analytics tools, training and advisory support to in-house teams to enhance their capacity and capability.
Industry and economic insight
Our experienced team of sector analysts, data analysts and economists undertake focused analysis and research on key industry trends and market opportunities to support the growth aspirations of our clients. By collating and analysing data from a mix of public, trade and premium subscription sources and supplementing this with front line sector knowledge we advise clients on market trends, identifying and sizing new markets, potential acquisitions and growth strategies.