NAVIGATING BREXIT
Need practical advice on navigating Brexit?
Discover our practical steps for business leaders
Grant Thornton warns reliance on instinct can lead investors to miss emerging pockets of opportunity for growth
Soft power and gut instinct is driving an estimated US$250bn per year in overseas real estate investment, a new report by Grant Thornton International Ltd reveals, showing that feeling rather than data analysis determines many investment decisions. This comes amid a surge of overseas real estate activity as investors seek new bedrocks of political stability. However Grant Thornton warns that reliance on instinct, while important, can lead investors to miss emerging pockets of opportunity if not complemented by more analysis and using local expertise.
Cross-border real estate transactions rose by 9% in the first half of 2015 and according to research conducted by Grant Thornton for its new report Uncovering opportunities for overseas investment and growth, this surge is being driven by a growing desire to seek politically stable regions for investment. When it comes to making location decisions, gut instinct is the dominant driver. When asked what drives their decision to enter and make a significant investment in a foreign market, over half of senior executives in Canada (51%), Australia (51%), USA (58%), UK (58%) and India (61%) said that 'it simply feels like a good fit'.
Kersten Muller, Real Estate Partner at Grant Thornton UK LLP, said:
"Real estate has been seen as a relatively safe investment class over the last few years, when compared with the turbulence seen in lesser-tangible markets. As cross-border real estate investment has been made more accessible, through the dissolving of borders, increased global travel, favourable tax incentives, etc., a whirlwind of demographic and political changes have reshaped the global landscape and are forcing savvy, progressive investors to seek stability in new territories.
"Interestingly, what really stands out from our study is that the sheer force of familiarity cannot be underestimated. Put simply, investors like putting their money into territories they know. It's a double-edged sword though. Without more comprehensive analysis alongside it, gut instinct can blind investors to emerging opportunities in less familiar locations."
Graph 1: Correlation between political stability, soft power and investment

Source: World Bank, Monocle, Jones Lang LaSalle
7. 'Global Market Perspective', Jones Lang LaSalle, Q1 2015. Total invested in all countries: $574bn (USD)
8. Soft Power Ranking, Monocle, 2014/15
The report finds that the countries with the highest soft power rankings – a measure of a nation's cultural attractiveness and allure – are not necessarily those ranked highest when it comes to political stability. When exploring the factors proving particularly attractive, a striking correlation emerges between the level of overseas students countries receive, and the amount of overseas real estate investment. (See graphic 2 below.) In the UK, a strong correlation between international commercial real-estate investment (25%) and the percentage of international students (27%) was detected.
Graph 2: Correlation between international students hosted and incoming real estate investment in 2014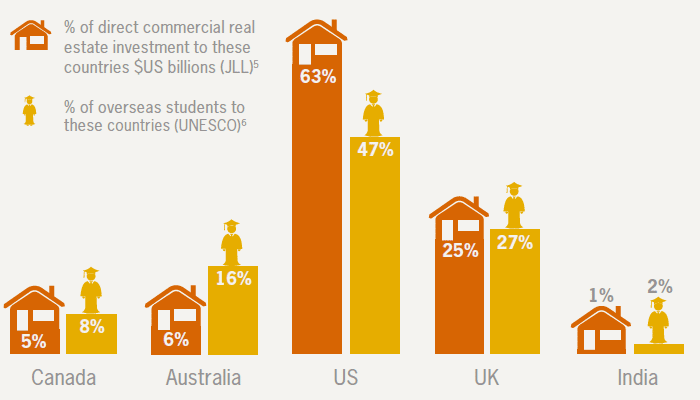 Source: Jones Lang LaSalle, UNESCO
Kersten Muller explained:
"In conversations with investors around the world it became apparent that soft power carries serious weight. Further analysis found that investors don't tend to pick a market without having a connection. And education is one of the most powerful connections; where students go, the real estate money follows.
"The UK's history of academic excellence is a major draw for international students, many of whom then help facilitate investment in property. For instance, it could be the case that the families or employers of international students who come to the UK find that the student's familiarity with the city / region where they're studying makes it easier to invest in property in that area. This line of thinking is further supported when you layer on the myriad other soft-factors that inform the decision-making process (e.g. the look and feel of a community, the prevalence of material wealth, the status associated with one neighbourhood over another, etc.), which only an 'on-the-ground' view of an area can offer.
"Not surprisingly, a lot of the investment which comes via international student connections isn't always destined for London. Given the geographic spread of world-class universities in the UK, we're seeing signs that many of the 'secondary markets' are benefiting from this trend, particularly where purer economic metrics such as population growth and infrastructure investment look promising. Many of the discussions we're having at the moment revolve around ignoring a city's current status and looking more broadly at its future potential and whether others are investing in the region.
"Finding the right balance between gut instinct and factual analysis is critical and can make the difference between following a trend or getting ahead of the curve."
Grant Thornton's new report, Uncovering opportunities for overseas investment and growth, explores the trends, challenges and opportunities facing the global real estate market today. It provides practical, achievable actions for investors looking to harness the forces shaping global real estate activity. To download a copy please visit Grant Thornton Global.