NAVIGATING BREXIT
Need practical advice on navigating Brexit?
Discover our practical steps for business leaders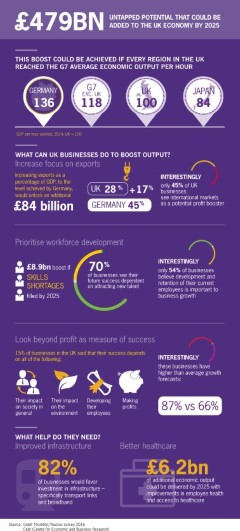 New Grant Thornton Vibrant Economy research reveals UK's opportunity for businesses, cities and communities to realise their potential.
Leading business and financial adviser, Grant Thornton UK LLP today releases research that highlights the unlocked potential of the UK economy.
It shows that UK GVA could be boosted by £479 billion by 2025 if GVA per worker in every region matched the G7 average (excluding the UK itself), with the exception of London which already outstrips it.
The research highlights both the challenges and opportunities faced by the Chancellor as he finalises his March Budget plans.
The study reveals that increasing exports by 17% to 45% of GDP, the level achieved by Germany, would lead to an additional £84bn of economic output being unlocked. Despite this opportunity for growth, Grant Thornton's research reveals that less than half of UK businesses currently identify international markets as a potential profit booster.
The study marks the launch of Grant Thornton's Vibrant Economy agenda, a nationwide Inquiry to unlock the shared potential of the nation by working with cities, communities and the corporate, public and third sector to jointly develop new solutions.
Grant Thornton worked with the CEBR and YouGov to identify a range of growth opportunities that UK businesses could make the most of.
Along with exports, skills shortages are still holding businesses back. Filling all job vacancies that are left empty due to skills shortages could provide a £8.9bn boost to the UK economy by 2025. A new YouGov survey of 1000 business leaders shows that businesses can do a lot themselves to help achieve this potential, particularly in terms of developing their workforce. 70% said that their future success depended on attracting new talent, but only 54% of respondents believe development and retention of their current employees is important to business growth.
Results also show the opportunity for businesses to boost their success by focusing on more than just profit. Research by the Edelman Trust shows that a business' contribution to the greater good is the leading factor in whether people trust that business. In our survey only 27% of businesses place importance on having a positive impact on their local community or wider society and 39% of businesses view transparency and good governance as a necessary part of success
However the survey did reveal that a core group of around 15% of businesses in the UK said that the success of their business depends on all of the following: their impact on society, on the environment, the development of their employees and making profits. Interestingly these businesses have higher than average growth forecasts: 88% of these businesses said they had the potential to grow over the next 12 months; compared to 66% of all businesses.
While businesses have the opportunity to make many of these changes themselves a series of external factors can also help to reach British business potential:
Improved infrastructure (such as better transport links, broadband and location) topped the list of factors that were most important to business growth (82%)

Improvements in employee health and access to healthcare could deliver a £6.2bn boost to economic output by 2025.
Grant Thornton UK LLP is launching its Vibrant Economy agenda to encourage the nation to join them in stimulating discussion, ideas and solutions that will unlock our full potential and help bridge this £479 billion potential gap.
Sacha Romanovitch, CEO of Grant Thornton UK LLP, comments:
"Today's research has revealed significant potential across the UK. We believe that addressing at root some of the UK's fundamental social and economic challenges collaboratively can create vibrant cities and communities across the UK, where businesses and people can flourish.
"Grant Thornton is today beginning an 18 month long, nationwide Inquiry into what it will take to build a vibrant economy. We want to use the combined knowledge of our company, our clients and our networks to bring people and organisations together to develop the ideas and partnerships on which a vibrant economy will be built."
Grant Thornton is establishing an independent Commission to steer a series of thematic and city-based Inquiries over the course of the next 18months, supported by a community of individuals and organisations who exemplify what it will take to build a vibrant economy: the Faces of a Vibrant Economy.
Grant Thornton has identified three areas where it believes it can make the most impact in shaping a vibrant economy. These are areas of credibility and strength for the firm, where its skills, connections, expertise and knowledge provide a great opportunity to contribute to sustainable growth. These areas have been identified as:
1. Building trust and integrity in markets.
2. Unlocking sustainable growth in dynamic organisations.
3. Creating environments where businesses and people flourish.
The aim of Grant Thornton's nationwide Inquiry is to collaboratively explore how the UK can accelerate economic progress, social good and opportunity for businesses, cities, people and communities. Grant Thornton is undertaking this Inquiry as an organisation that has a cross-nation, cross-sector vantage point on the UK economy, working nationwide with organisations across the public, private and third sectors.
Notes to editors
Analysis was undertaken for Grant Thornton UK LLP by the Centre for Economics and Business Research Ltd (Cebr), an independent economics and business research consultancy, with data sourced from the Office of National Statistics (ONS), Department for Business, Innovation and Skills (BIS) and other sources along with proprietary analysis by the Cebr. The research was carried out in February 2016 with the latest available sets of data.
Additionally a YouGov Plc survey was conducted: Total sample size was 1,031 senior decision makers in businesses of any size. Fieldwork was undertaken between 8th - 17th February 2016. The survey was carried out online. The figures have been weighted and are representative of all GB businesses by size.