NAVIGATING BREXIT
Need practical advice on navigating Brexit?
Discover our practical steps for business leaders
Latest figures from Grant Thornton's Agents of Growth* series found that 43.5% of MSBs surveyed reported meeting regulatory requirements would be more of a challenge this year than the one before, a rise of around 5%. New regulations currently before Parliament could increase this further. The current Small Business, Enterprise and Employment Bill has some great measures for small firms but, as currently drafted, will increase the bureaucratic burden for mid-sized businesses (MSBs) while denying them the benefit of some of the positive measures on access to finance.
The Small Business, Enterprise and Employment Bill would introduce new regulatory requirements for companies to collate and publish reports on how quickly they pay suppliers and additional requirements to publish details of people with more than a 25% shareholding. The government has said its intention is for these regulations to apply to large companies, yet the definitions used in the Bill would actually apply these new regulations to many companies that government defines for other purposes as small and medium sized (SME).
The government's aim in tackling late payment is entirely laudable; it is the details of the Bill that create unintended consequences. Late payment is not a problem exclusively affecting the smallest companies in the UK. It is as much an issue for mid-sized business. The Q4 2014 Grant Thornton/ICAEW Business Confidence Monitor showed that 20% of MSBs were finding late payment a greater challenge than the previous year. In addition, it highlighted how regulatory requirements now pose the greatest challenge for the growth of UK mid-sized businesses.
Proportion of UK MSBs reporting factor as a greater challenge in 2014 than a year before
Source: Q4 2014 Grant Thornton/ICAEW Business Confidence Monitor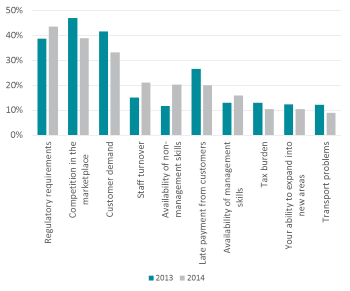 The Bill also provides some very welcome measures to help increase access to finance for small businesses. However, these are limited to an unnecessarily restrictive number of SMEs, and the definition used in the Bill rules out many mid-sized businesses who government defines as SMEs for other purposes.
A small amendment to the Bill could avoid these unintended consequences by replacing the definition of an SME in the Bill, which is currently taken from the Companies Act definition, and changing it to that used under the R&D tax relief definition of an SME. That is, from 250 to up 500 employees and to a turnover up to 100 million Euros or a balance sheet less than 86 million Euros.
Grant Thornton is urging Parliament to amend the Bill as per the R&D tax relief definition of SMEs as this change will extend benefits to over 2,850 MSBs, and save these firms from additional regulatory burdens whilst also extending the benefits of the access to finance provisions. This, in turn, will stimulate additional economic growth.
Jonathan Riley, Head of Tax at Grant Thornton UK LLP, says: "Although it is clear from our research that many mid-sized businesses have an optimistic outlook for 2015, nevertheless, this is marred by the increased concern of regulatory burdens upon MSBs in the UK. The government has done much to find ways of reducing red tape on our smallest firms, however 2015 needs to be the year that government officials also focus on reducing the regulatory load faced by mid-sized businesses. This reinforces the point identified in our Agents of Growth work, that civil servants across government need to understand the mid-sized business community to better inform the detail of policies which impact on economic growth.
"Amending the Small Business, Enterprise and Employment Bill to bring its definition of SMEs into line with other government schemes like the R&D tax credit will avoid creating unnecessary new regulatory burdens for many MSBs. It is absolutely right that large firms should report on their payment practices in an effort to tackle the blight of late payment. But it is crazy that government is defining as 'large firms' those businesses which another part of government defines as 'small and medium.'
"We have seen HMRC and UKTI embrace a new approach to supporting mid-sized businesses in the last year but we now need to see that extended to other parts of government to reduce regulatory and administrative burdens for these core businesses."
-ends-