NAVIGATING BREXIT
Need practical advice on navigating Brexit?
Discover our practical steps for business leaders
Fifty Thousand Homes campaign puts the 'scores on the doors' with detailed Ordnance Survey data
One in three new homes planned for London are lost after planning permission is granted
On average, it takes 13 months before building starts on most projects
New analysis from the Fifty Thousand Homes campaign has revealed that a startling amount of new homes planned for London are being lost.
Since 2014, just over 50,000 flats and houses have been granted planning permission each year - putting the Mayor's target of 50,000 new homes for London just in reach.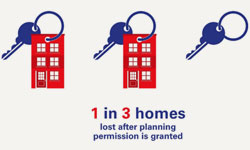 But, on average, over one in three homes (36%) are not built after planning permission is granted, compounding the huge challenge London faces in addressing its housing crisis.
At current rates, it takes around three years from planning permission for front doors to start opening on average, with building only beginning 13 months after planning permission is granted.
Jasmine Whitbread, chief executive of London First, who launched the Fifty Thousand Homes campaign said: "The Mayor rightly said the election was a referendum on housing but it's a huge job ahead. We'll update these 'scores on the doors' every six months, tracking London's progress and working with planners and developers to get to the bottom of what's holding up housebuilding in the capital. A huge number of businesses are worried about their staff being priced out of the city, we have to act now to keep hold of the people that make London work."
The analysis, developed by Grant Thornton UK LLP who are part of the Fifty Thousand Homes campaign, examines the pipeline of housing development and uses detailed Ordnance Survey data. It reveals:
The rate of attrition – homes given planning permission but not built - looks to be increasing over time, from 28% in 2010 to 36% in 20131
Developments of 100-149 homes are most likely to be built, with 88% either under construction or successfully completed within three years
On average, it takes over a year (13 months) from planning permission for spades to be in the ground and construction to begin
It's then on average another 20 months for a development to be completed
On average, around 30% of new homes being built in London are 'affordable' homes: including social housing, affordable rent, shared rent and shared ownership.
The campaign will update the data every six months, giving London a robust, up-to-date measure of progress against its housebuilding targets.
Shelter's interim chief executive, Graeme Brown, said: "With renters facing huge housing costs, meaning more young people are packing their bags to leave the capital, there is a mountain to climb when it comes to fixing London's broken housebuilding system.
"It seems clear that the Mayor needs to start getting tough with organisations who have planning permission but simply don't get on with building the homes that ordinary Londoners so desperately need.
"We are encouraged by the Mayor's commitment to build more homes and make sure they are genuinely affordable. It's crucial he delivers on those plans if we are to give Londoners a place to call home."
Sacha Romanovitch, Chief Executive, Grant Thornton UK LLP, said: "This performance data is essential in informing our shared mission to tackle the shortage of housing in London. There is a desperate need to increase supply across the capital, and our analysis identifies those areas that need attention.
"Solving London's housing crisis could be key to unlocking future growth in the capital at a time when the economic outlook has weakened. Additional house building projects in themselves will help to create jobs and stimulate growth and pivotal to achieving this is working collaboratively with the 32 London Boroughs and the City of London Corporation.
"By seizing the opportunity to improve the affordability and supply of housing, we will be creating the environment where dynamic businesses can grow faster by being able to attract and retain the people they need. And importantly, creating the type of housing to foster better social integration will help shape a truly Vibrant Economy in London, one which provides the opportunity that works for everyone, where happier and more productive individuals, communities as well as business thrives."
London needs 50,000 homes a year built by 2020 to help keep up with its growing population.
Public land is being identified that can be used to deliver new housing and the Mayor is already fast-tracking 75 sites, across 300 acres of TfL land, that could deliver up to 10,000 new homes for Londoners.
The Mayor has also set out new planning rules to help speed up the building of more affordable housing and the government has committed £3.15bn to support new homes in the capital.
But, with 30,000 more 30-somethings leaving the capital each year than coming here, and the average cost of a home in London more than 14 times average earnings2, there has to be a dramatic and sustainable increase in the number of homes being built to protect and enhance the capital's competitiveness as a global city.