NAVIGATING BREXIT
Need practical advice on navigating Brexit?
Discover our practical steps for business leaders
Following the second quarter's surge, total disclosed deal value decreased by 30% in Q3 2014 compared with the previous three month period and by 25% compared with the third quarter last year.
Deal volumes also declined, dropping by 26% compared with Q2 2014 and by 10% relative to the same period a year ago. However, year-to-date total volume of 106 deals is slightly ahead of the 104 deals recorded in the first three quarters of 2013.
Trefor Griffith, Partner and Head of Food and Beverage at Grant Thornton UK LLP, commented: "Private equity activity in Q3 2014 was 14% lower by volume than in the previous quarter, but on a positive note, was up 20% on the same time last year. Also, private equity deal volume in the first three quarters of 2014 has already exceeded 2013's full-year total by 32%.
"A number of recurrent themes were represented in this quarter's activity: the prominence of private equity, buyers' on going interest in targets in the healthy eating and nutrition sub-sectors, and the two-way flow in overseas transactions – with interest in UK companies by foreign entities, as well as from UK companies looking to acquire overseas."
Announced PE activity in food and beverage - quarterly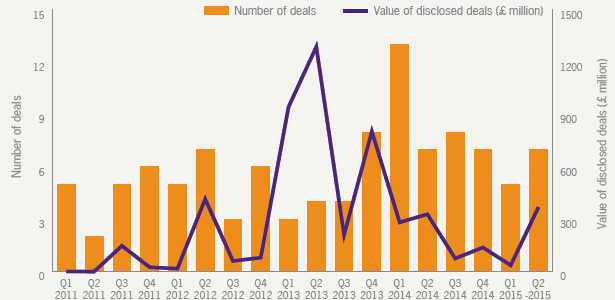 Announced M&A activity in food and beverage - quarterly