NAVIGATING BREXIT
Need practical advice on navigating Brexit?
Discover our practical steps for business leaders
Leading business and financial adviser Grant Thornton UK LLP has launched its recommendations to government: . Over the past 18 months, Grant Thornton has brought together people, communities and leaders from across the UK, representing the interests of the public, private and not-for-profit sectors, to collaboratively share their ideas on what will help shape a vibrant economy. The firm has grounded its recommendations on these interactions and conversations and they are focused on the key areas of trust, growth and place; and has proposed a number of actionable recommendations to build a positive future and a society that creates opportunities for all. This includes:
Unleashing purpose in business and financial markets: Government's aim should be for 'profits with purpose' to become the new normal, with the majority of businesses in the UK delivering wider social and environmental outcomes as well as profits. Supporting this requires impact investing to become a mainstream retail product, allowing UK savers to decide what societal or environmental outcomes they want their savings to achieve, as well as providing a financial return. Recommendations include:
Fully utilising the Social Value Act so government contracts are with businesses that make a positive contribution to society.
Promoting a full understanding and application of existing directors' duties under Section 172 of the Companies Act (to have regard to wider stakeholders)
Supporting continued development and adoption of integrated reporting
Scale up impact investing, so people can easily invest their savings in businesses with purpose
Putting collaboration at the heart of the UK's industrial strategy: The government's industrial strategy should incentivise collaboration to boost exports, develop a healthy pool of skills and talent for employers, and unlock innovation.Recommendations include:
Growing a new collaborative model of exporting that encourages smaller and larger firms to work together, supported by a new export tax credit
Incentivising collaboration between employers and education
Implementing a sustainable immigration policy, including post study work visas, connected to local and sectoral needs
Supporting 'collab-innovation' activities, including corporate venturing
Equipping towns, cities and rural areas to create vibrant local economies: Government should continue to devolve powers from Brussels and Westminster to local areas, in ways that encourage innovation, collaboration and trust. Government should give cities and shires across the UK powers and frameworks to support collaboration on strategic issues and raise the finance for investment in their infrastructure priorities. Recommendations include:
Greater flexibility for local experimentation in models of leadership, governance and delivery of public services
Devolution to strategic local bodies of services and policies including: immigration, skills, health and social care, housing, local and regional transport – with freedom to develop holistic solutions across these areas
Giving local bodies the flexibility and freedom to support infrastructure investment
Measuring success not by GDP alone but by a basket of statistical indicators – a Vibrant Economy Index – that takes a balanced view across a range of measures looking at prosperity, opportunity, inclusion, wellbeing, sustainability and community.
Sacha Romanovitch, CEO of Grant Thornton UK LLP, commented: "The UK is at a pivotal point in its history. There are big macro issues to address. Technology is transforming industries, the nature of work is changing and we have to support an ageing population and transform our public services to meet changing needs. All can see the growing trust deficit in society and the sense that many feel left without a voice. Thrown into the mix is the task of negotiating our future relationship with the European Union and trading relationships across the world.
"There is also huge opportunity. Our economy has long-standing strengths: an innovative service sector, creative industries and advanced manufacturing. We are recognised for the integrity of our independent judiciary, the resilience of our financial institutions and regulators that enable us to play an important global role. And as the fifth largest economy in the world we have longstanding, deep connections across the globe. These give us durable foundations upon which to build our future.
"Recent political events show that government and politicians, nationally and locally, must work together to reshape our economy as happened post-war where cross-party collaboration produced solutions that lasted for decades. Government cannot, and should not, do it alone. Businesses and other organisations have a big role to play and have a desire and ability to make a difference.
"The ideas that follow draw from face-to-face engagement with over 1,000 leaders at our Live Lab events and numerous other constructive and insightful conversations. We have sought to bring to life the key components of a vibrant economy in the UK. In this blueprint, we have also described what we, in collaboration with others, are doing to make this happen, and have set out what we think government can do to help fulfil this vision.
"By taking these first steps together, we can all help build a positive future and a society that creates opportunities for all."
Read our recommendations
Download PDF [3438 kb]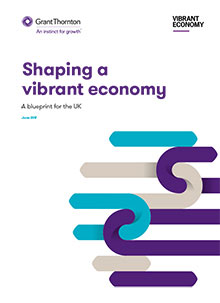 Consider the potential impacts and opportunities it will create for your organisation