NAVIGATING BREXIT
Need practical advice on navigating Brexit?
Discover our practical steps for business leaders
According to the latest research from Grant Thornton UK LLP, Indian companies reported a record total deal value of US$14.7 billion in Q3 2016. This is a 19% increase compared with the same period last year and the highest value recorded in the last two years. This can be largely attributed to an increase in big-ticket investments, which accounted for over 78% of this quarter's total deal value.
Deal value
Overall Indian M&A deal value for the year-to-date increased by 33% compared to the same period last year, jumping from US$21 billion to US$27.9 billion. This is due to a 73% increase in domestic deal value (US$6.8 billion to US$11.8 billion) and a 272% increase in big-ticket mergers and restructuring, which jumped from US$1.3 billion to US$ 4.9 billion.
Cross-border M&A deal value for the year-to-date declined to US$11.2 billion, a 12% drop compared to 2015 (US$12.8 billion). A fall in deal volumes and fewer cross border big-ticket transactions contributed to this decrease.
To date, 2016 has seen a 32% decline in deal value from Private Equity investment (PE). It dropped from US$12.4 billion in the same period last year to US$8.4billion. Due to an absence of big-ticket investment Q3 2016 recorded the lowest PE deal value for nine quarters at US$2.5 billion.
Indian deal activity
Growth for the year to date has come primarily from domestic M&A activity which recorded a 4% increase in deal volumes compared to the same period in 2015 (234 up to 244). The level of mergers and internal restructuring for the year to date has more than doubled from 6 in 2015 to 13 in 2016.
PE deals accounted for nearly 65% of overall deal volume for the year to date (735 of 1,134). This is primarily due to strong traction in the start-up space which accounted for 70% of PE deal volume and 24% of PE investment value.
India Watch Index
For the first time in four years the Grant Thornton India Watch Index, which monitors the overall performance of Indian companies listed in the UK, has seen positive growth over the past 12 months. The Index rose by 38.4% this quarter, a significant increase compared to the FTSE 100 and FTSE AIM which rose 6.1% and 16.3% respectively.
This growth reflects the optimism felt by investors as amidst global uncertainty India has become the world's fastest-growing economy.
Commenting on the findings Anuj Chande, Head of South Asia Group at Grant Thornton UK LLP said:
"This quarter has seen a record increase in deal value, with the highest total recorded for two years. A strong focus on M&A and a number of big-ticket investments from the domestic Indian market so far this year have contributed greatly to this growth. Amidst on-going global uncertainty India's macro-economic indicators have remained favourable which has led to continued interest from global and domestic investors as they focus on the opportunities India offers.
"The government's on-going push for reforms has kept up deal momentum and we have seen good traction across all sectors, particularly from start-ups which continue to be a key driver of PE activity. A strong tax system and strong banks and infrastructure are the foundations of a robust growth-orientated economy and the government's focus on these areas will continue to inspire confidence among investors.
"Despite slowing global growth, India remains a bright spot among emerging economies. Indian companies continue to seek opportunities to maintain competitiveness and expand their core businesses across India and abroad. A rise in consumer spending following wage increases is expected to drive further growth and India is set to have another strong year, propelled by healthy domestic dynamics."
Read the India Watch
Download PDF [1576 kb]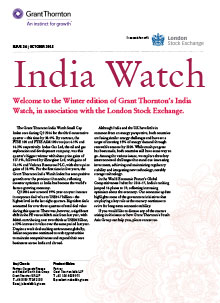 Get the latest insights, events and guidance about Indian markets and businesses, straight to your inbox.