NAVIGATING BREXIT
Need practical advice on navigating Brexit?
Discover our practical steps for business leaders
As the Prime Minister opens the India-UK Tech summit in New Delhi, Anuj Chande, Partner and head of the South Asia group at Grant Thornton UK LLP comments on the impact Brexit may have on Indian companies looking to invest in the UK.
"Brexit appears to be a two-sided coin for Indian firms looking to invest in the UK. The majority of Indian firms are concerned about what the UK's future relationship with Europe will be. For those firms who use the UK as a launchpad into Europe, it will present challenges. For other Indian firms it may offer significant opportunities. Since it is now 20% cheaper to buy UK assets, we're seeing increased interest from Indian firms looking to acquire UK businesses, particularly in food manufacturing and distribution, and in the technology sector.
"Some sectors may feel the impact more than others. For example, many Indian pharmaceutical companies are based in the UK. However, if the European regulator for drug registration and approval, currently headquartered in London, is relocated, this could cause difficulties for these firms. Since the EU/India trade agreement has been on the negotiating table for nearly a decade, Brexit may provide for a quicker bilateral trade agreement. However, it is unlikely that negotiations will take place while the UK is still part of the EU."
"Given the current uncertainty, it is dangerous for the UK government to make promises to Indian companies. Instead we should focus on the positives that the UK can offer to firms from India even from outside the EU. Namely a shared language, low tax access to skills such as design technology and globally-recognised brands. As negotiations continue as to what Brexit will mean, we must remember that Britain and India still share deep cultural links that will continue to make the UK an attractive place to establish a base."
A recent Grant Thornton report, , demonstrates that fast-growing Indian companies employ almost 110,000 employees in the UK, and pay combined UK corporate tax of almost £650 million, up from £500m last year. The report also showed that a third (32%) of high-growth Indian firms in the UK operate in the technology sector, and 22% in pharmaceuticals and chemicals.
Read the report
Download PDF [1043 kb]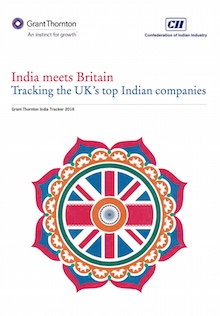 Get the latest insights, events and guidance about Indian markets and businesses, straight to your inbox.