NAVIGATING BREXIT
Need practical advice on navigating Brexit?
Discover our practical steps for business leaders
Environmental impacts are rising up the agenda of governments, businesses and consumers. We look at why this is now a CEO issue and how to tap into the circular economy.
A company's green credentials are no longer just the concern of active investors or environmental, social and corporate governance (ESG) department heads. They're now a front and centre issue for CEOs, too.
Larry Fink, chief executive of investment firm BlackRock, said in 2018 that ESG was set to "transform all investing", with the interest in a company's wider impact becoming "overwhelming" within five years.
And in May 2019 the UK government released a new, 25-year plan that outlines how it intends to work with businesses to tackle a whole range of environmental issues. It also set goals to eliminate avoidable waste by 2050 and avoidable plastic waste by 2042.
One way is to approach these challenges is to tap into the trend towards a circular economy (CE).
What is the circular economy?
Superficially associated with recycling waste, in reality the definition of a circular economy encompasses the whole product life cycle. Circular economy principles aim to design out waste and pollution, re-use or regenerate resources, and keep products and materials in use throughout the product life cycle to create a closed-loop system. It can also mean shifting your business model from selling to leasing so you can manage your business's impact from start to finish.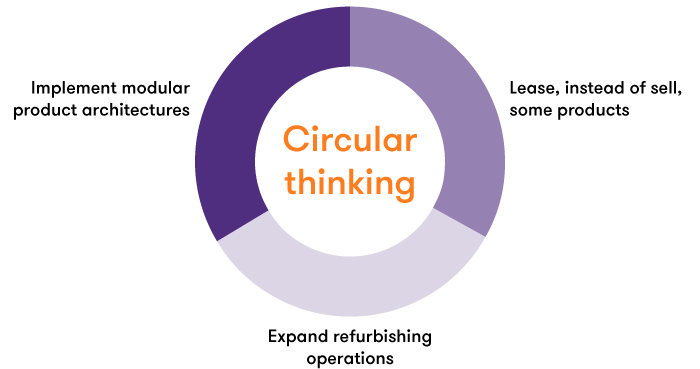 So where are we now?
Currently, the majority of material used in manufacture across the globe ends up as waste. "World circularity is only 9%, which means that 91% of all material in our economic systems is not used for or in a second life cycle," explains Eveline Lemke, founder of think-tank Thinking Circular.
We're also using up natural resources at a record rate. This year, researchers at the Global Footprint Network calculated the annual Earth Overshoot Day (when demand for ecological resources in a given year exceeds what Earth can regenerate in that year) at 31 July.
Tapping into the circular economy
John Wood, Emeritus Professor of Design at Goldsmiths University of London, says there is a compelling case for a new approach: "Business should re-think the old concept of waste. Making product cycles loop back again will lead to greater efficiencies and profits, as well as being kind to the planet."
Some governments are also encouraging CE through tax incentives. Mikko Kosonen, the President of the Finnish Innovation Fund (Sitra), says a suite of government policies – most notably to incentivise a CE through tax reform – will put the CE at the "very core of Finland's competitiveness agenda".
Environmental impact and customer consciousness
The impetus to change may come faster than you think. With movements such as Extinction Rebellion high on the news agenda, customers are becoming more aware of environmental issues and are more likely to opt for companies with a lower waste footprint.
"We will be seeing small changes, and some of those changes will be to do with raised consciousness on the part of the consumer," explains Wood. "For example, how long does a pair of tights take to rot down in landfill? Most are not biodegradable. This sort of information could have a huge effect once it gets into the public consciousness."
Wood predicts that greater consumer consciousness means customers will also demand more information about product life cycles, which means companies may have to invest in new tracking and auditing methods. Businesses are starting to look at circularity as a way to get ahead of their competitors and make themselves more sustainable – before a crisis hits.
When companies get CE principles wrong
While companies should definitely be looking at ways to improve their environmental footprint, it's crucial that any change is meaningful, properly researched and evidence-based. This may not be as simple as it seems.
When McDonald's announced in 2018 that it was switching from plastic to paper straws, it was done at least in part to garner some reputation-enhancing positive publicity. But the revelation that these straws were more difficult to recycle than the plastic version led to a media backlash.
"There is a lot of misunderstanding when it comes to plastic," explains Sophie Thomas, circular economy designer and Founding Director of communication designer agency Thomas.Matthews. "A lot of people think they should be buying milk in Tetra Pak rather than plastic. But this doesn't make environmental sense. As a plastic-cardboard combination, Tetra Pak has very limited recycling options, whereas plastic milk bottles are made of HGP plastic, which is easily recycled."
Three ways to approach the circular economy
"We tend to advise companies to approach their business using a 'today, tomorrow and the future' system," says Thomas:
"Today – changes that can be delivered almost immediately – is about ensuring you are being as efficient as possible with the materials that you are using.
"Tomorrow – the near future – is about reducing. You need to check all your materials: don't just say they are recyclable, but they are actually being recycled as much as possible.
"The future is moving away from the material to something that's refillable, or looking at changing materials or building in new systems."
Moving to a circular economy intersects with other business trends, too – including the growth of artificial intelligence – and could similarly have a huge impact on your current workforce.
Simple cost-saving steps towards circularity
Whatever the nature of a business, the first step towards circularity is likely to be an audit of current practice. "We have worked with customers in the auto and plastics industry to reduce the amount of plastics used, as well as introducing more recycled material into the process. Both steps can drive down cost," explains Oliver Bridge, Director at Grant Thornton.
"One business we've worked with was spending around £50,000 on packaging every year," says Bridge. "When they shipped out the product, they had layers of plastic and corrugated card to keep everything together. They changed their practice to reuse packing materials, saving tens of thousands of pounds."
The introduction of more recycled materials into manufacture is a good step but needs to be carefully considered, especially when changing products customers are familiar with.
"Consumers have become used to clear plastic, particularly when it comes to food packaging," explains Bridge. "It's difficult to put recycled plastic into clear plastic as it's inherently got colour in it. There's a balance on quality because if you introduce secondary material it's just not as easy to get a consistent colour and texture."
There are simple changes that can be made, however, such as swapping out single-use plastic where possible or ensuring adequate recycling points within a business. Moving forward, it's important for all businesses to develop an overview of their supply chain and through this to begin to identify points at which change can be most effective.
According to Kosonen, who opened the World Circular Economy Forum in June 2019, increasing action by governments and business to reduce environmental impact suggest that the era of the 'take-make-waste paradigm' is coming to an end – and the transition to a truly circular economy may finally be underway.
CEO insights: tailored content for CEOs and business owners
Receive the latest insights to stay on top of the issues that matter to you. Let us help you set the agenda for the year ahead.