NAVIGATING BREXIT
Need practical advice on navigating Brexit?
Discover our practical steps for business leaders
Our latest research maps significant variation in inward investment across England's 324 local authorities – and highlights strategies to help redress the imbalance.
Inward investment is a major component of delivering growth helping to drive GDP, foster innovation, enhance productivity and support and create jobs. However, the success rate in attracting inward investment varies significantly across the country and this pattern that is also reflected in the unequal distribution of foreign ownership.
Our Business Location Index has been created to help local authorities, local enterprise partnerships, central government and other stakeholders better understand the existing variation in success in attracting inward investment and to provide insight that can help redress this imbalance.
Based on in-depth research and consultation to identify the key factors that influence business location decisions, the index ranks the overall quality of 324 local authority district councils as a business location. This is then compared with an analysis of the operating costs of each location to provide an insight into the varied geography that exists across England, and the implications this raises for national and local policy makers.
Download our Turning up the volume report summary [ 860 kb ] (PDF 860KB) or read on for a summary.
The Business Location Index
Based on in-depth research and consultation by our Place Analytics team, we identified the following factors as key to attracting inward investment. The combined ranking for each has been mapped to show the variety in the quality of business locations across England.
Economic performance
Economic scale
Productivity
Knowledge-driven businesses
Business and enterprise
People and skills
Scale of workforce
Skills and qualifications
Knowledge workers
Labour market
Environment and infrastructure
Transport and connectivity
Innovation
Quality of life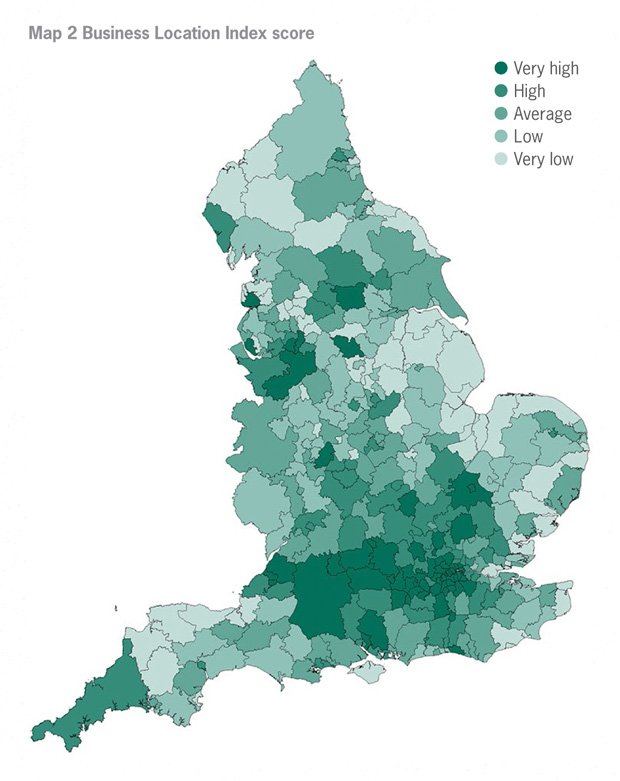 This pattern aligns with that seen in our Where growth happens report. It highlights that growth and inward investment are closely linked, and that these places are at the heart of creating a vibrant UK economy. Together, these two reports show the need for devolution and investment outside London.
Quality v cost
While the quality of a business location will be a major factor, the final investment decision will involve other considerations – in particular cost.
A composite cost score was created, based on average earnings, business rateable value (per sq m) and average house prices.
Combining the quality and cost rankings shows a relatively strong correlation between cost and quality; the cost of location in high-quality areas is significantly above that of lower-quality areas. It also highlights areas that are high quality and low cost.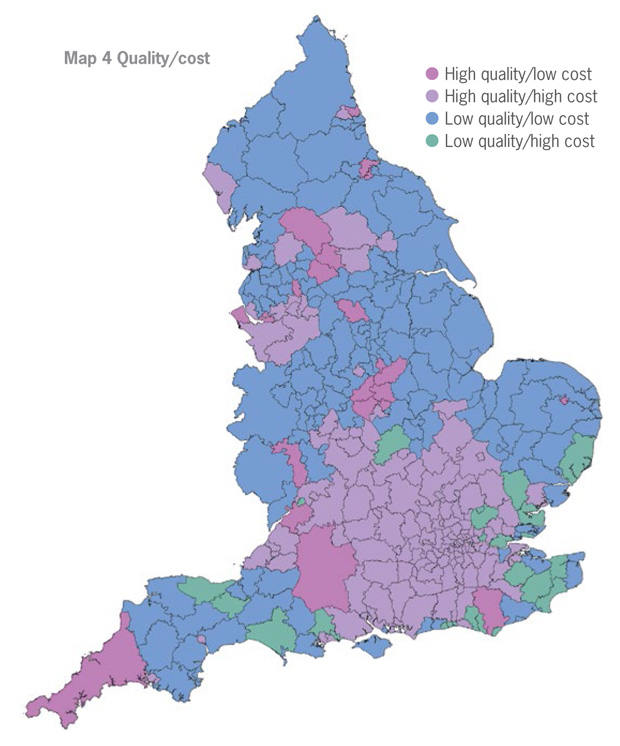 High quality/ Low cost
Accounts for around 22 (7%) English districts
Mostly located in the East Midlands and Yorkshire and Humber
High quality/ High cost
Accounts for around 140 (43%) English districts
Dominated by London and by districts in the South East and East of England
Low quality/ High cost
Accounts for around 21 (7%) English districts
Primarily located in areas on the fringe of London, such as parts of Essex, Kent and West Sussex
Low quality/ Low cost
Accounts for around 140 (43%) English districts
Predominantly peripheral/rural areas and coastal towns as well as a number of former industrial areas.
Strategies for inward investment
Our analysis underlines that in a highly competitive market it is vital that decision-makers understand the different strengths and assets of their particular location. For those charged with promoting place and attracting inward investment, at both a national and local level, our analysis identifies a number of important implications in the development of effective inward investment strategies.
On a national level, strategic considerations include the following:
1. Recognising the importance of the city region and wider travel-to-work patterns.
Our research has underlined the importance of the UK cities as prime business locations, often providing the core economic ingredients required by businesses. These ingredients do come at a cost both financially – for example, higher costs of premises – but also in terms of quality of life with cities more likely to experience higher crime levels and less natural beauty. What the city region geography invariably offers is a more complete package, enabling places to offer the sought-after mix of economic and environmental strengths, access to a larger pool of talent, and more varied options in terms of housing and other amenities.
2. Help to shift London's sphere of influence in relation to inward investment.
Another consideration is using new infrastructure developments, such as HS2 and the coast-to-coast rail improvements in the North, to help shift London's sphere of influence in relation to inward investment. Access to London will remain a primary consideration for many businesses. However, as transport connectivity continues to improve, coupled with ever-improving broadband capacity, businesses will increasingly have the confidence to locate elsewhere and take advantage of lower employee, housing and business costs
3. Helping identify and support the development of specific ecosystems and sector strengths.
Using a range of fiscal levers and targeted investment, supported by a strong evidence base, the UK government can help reduce inter-regional competition and create internationally recognised centres of excellence in particular sectors. This approach should build on areas where the UK is already a global leader. Through the creation of strong supply chains, the benefit of these centres can also spread beyond the specific geography in which they are located, supporting other places and associated ecosystems.
On a local level, authorities should consider the following:
1. Understand the key strengths, weaknesses, opportunities and threats of both the local and wider sub-regional geography.
Through our research and interviews, it is encouraging to see that LEPs and other inward investment agencies are looking at broader geographies. To support this work, these organisations need to build on a robust evidence base that looks not only at each area's socio-economic and environmental characteristics but also takes into account the nature of the existing foreign-owned businesses.
2. Take advantage of devolution.
Devolution offers a unique opportunity to develop more tailored inward investment offers. However, these offers need to be created in the context of, and be fully aligned to, the national offer because the first decisions made by foreign-owned businesses is at the country level.
3. Turn up the volume on the marketing strategies for their place.
Our analysis has provided a framework and a methodology against which an area can understand its (relative) strengths and opportunities. This – coupled with the excellent work already being undertaken to consider the wider geographical strengths, sector expertise and area attractions – will enable areas to establish and maintain a strong investment profile.
Further help
Download the full report: Turning up the volume [ 2276 kb ].
To discuss any of the issues raised, contact Rob Turner, Associate Director, Place Analytics.
Read the report
Download PDF [2276 kb]