NAVIGATING BREXIT
Need practical advice on navigating Brexit?
Discover our practical steps for business leaders
The automotive market in 2017 withstood dramatic fluctuations to emerge as the third strongest in a decade. The dramatic highs and consecutive lows of the year are sure to have an effect when reviewing the monthly year-on-year growth rates between 2017 and 2018.
Looking back at 2017's registrations
Our research shows that the first quarter of 2017 was especially good for new car registrations. In fact, March 2017 emerged as the strongest month for vehicle registrations on record. While extremely welcome, this can mainly be attributed to the change in VED tax, with many people choosing to buy their new vehicle shortly before the implementation date of April 1 2017.
However, this was a high point that the rest of the year struggled to match. The declining consumer and business confidence that has been prevalent since the EU referendum soon took hold of the market again, with year-on-year decline continuing. December itself had the second largest decline in year-on-year vehicle registrations, down 14.4%, with April suffering the most (a dramatic fall of 19.8%) thanks to the exceptional figures in March. Annual demand in 2017 reached 2.5 million vehicles, lower than the 2.59 million forecasted by the SMMT and a fall of 5.7% from 2016 rather than the previously predicted 3.7% decline.
This lack of consumer confidence and overall concern meant that the exceptional first quarter of 2017 was followed by nine consecutive months of decline that lasted through to the end of the year. December saw consumer confidence fall by 13% [see chart 1], which reflected trading updates issued by retailers struggling through a particularly tough Christmas. This drop saw consumer confidence at its lowest point in four years, falling below the economist's forecasts gathered by Reuters1.
The continued decline of new vehicle registrations across the board in 2017 can be partially attributed to this low consumer confidence, with the private and fleet segments dropping by 6.8% and 4.5% year-on-year respectively. Elsewhere, the light commercial vehicle market fell by 3.6%, and although this is the first decline since 2012, it is still at its third-highest point in a decade.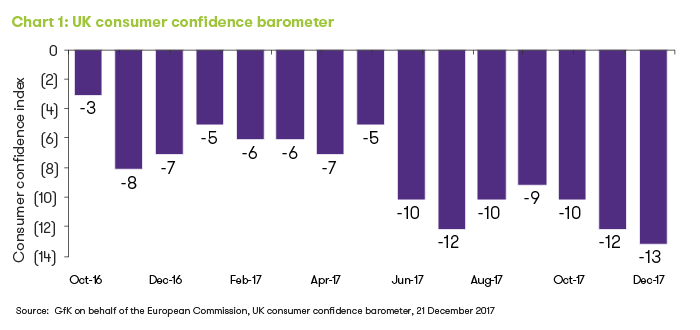 Business confidence rebounded slightly in the final quarter of 2017, with a decline of only 3.4% (instead of the previous quarter's 8.0%) [see chart 2]. This has been attributed to stronger earnings of international companies, aided by the weak pound. Improved corporate profits helped the London Stock Exchange FTSE 100 finish December at the highest point of the year (7,687 points), and it has continued to rise throughout the first two weeks of January3.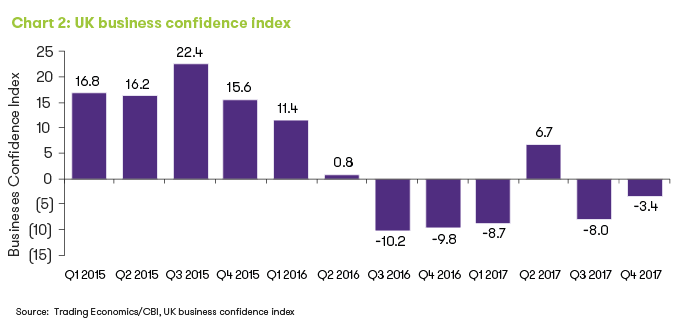 The start of 2018 showed a decline in new car registrations by 6.3% year-on-year for the month of January. This decline was expected new vehicle registration numbers were strong in January 2017. Diesel once again bore the brunt with vehicle registrations declining by 25.6% for January 2018 and now accounts for 35.8% of the market share (fuel type). Compared to a year ago, market share for diesel vehicles was 45.2%. There is a clear indication that at the moment the general public continue to reject diesel vehicles, and there is no sign of this abating. Such a sharp change in consumer purchasing trend has meant that the OEMs and the retail dealer network has not been able to keep pace. Such a rise may start to generate significant increases with the dealer networks level of working capital.
Fuel types and model registrations
It's apparent that vehicle fuel choice is becoming more and more important, as diesel suffered a dramatic month-on-month decline in December of 31.1% (a year-on-year decline of 17.1%). Petrol, on the other hand, only fell by 2.1%. At the other end of the spectrum, alternative fuel powered vehicles registrations increased by 37% month-on-month, although from a low base, rounding off a strong annual increase of 34.8%. The popularity of electric vehicles (EVs) is continuing apace, with announcements by Tesla5, Daimler, and companies such as Royal Mail adding commercial electric vehicles to their fleet6. This upswing is likely to feature in the registrations market going forward, and one that OEMs will need to ensure they are prepared for as the public and businesses look for alternatives to diesel and petrol.
In terms of models, the Ford Fiesta remained the most registered vehicle year-to-date, with a 3.7% market share. Mercedes-Benz meanwhile had two vehicles in the 2017 top ten – the C Class and E Class. The premium German brands, Audi, Mercedes-Benz and BMW, ended the year strongly with a market share that exceeded 20%, up from 2016's 19.6%.
Ford and Vauxhall struggled through a difficult year, with combined market share falling by 10% year-on-year in 2017. In the case of Vauxhall, consumer confidence in the brand was likely undermined by the acquisition of the Vauxhall and Opel brands by PSA.
Commercial vehicles
The low consumer confidence that has affected the market for months took a heavy toll on the light commercial vehicles market, seeing a decline for the first time since 2012, dropping 3.6% year-to-date to 362,149 units.
Ford managed to retain its position as market leader throughout 2017, with an increase in year-on-year market share of 1.97% (a total share of 32.54%), or 117,831 units. This is in sharp contrast to Hyundai, who have held the smallest market share throughout 2017 and ended on a low of 3.3%.
We already know that April saw a huge decline year-on-year of 18.8%, but the market showed signs of improvement with an uplift for vehicles <3.5t year-on-year by 2.85%. A good way to end 2017, but we believe that there are still choppy waters ahead as certainty over Brexit and UK politics could generate volatility in 2018 and 2019.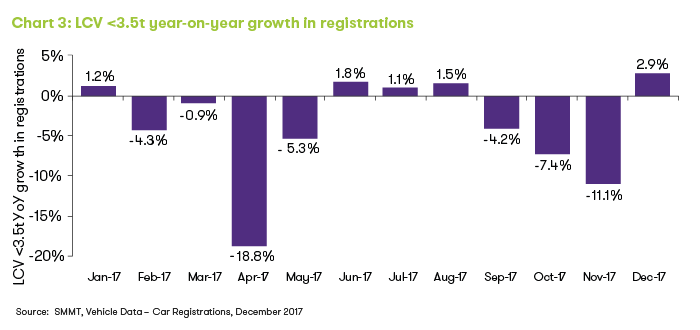 New van registrations fell by -4.2% to 20,475 units in January 2018. Smaller vans, dropped -28.9% compared with previous year. Consumer and business confidence continues to generate weak demand for the registration of new light commercial vehicles.
The EU market
December saw new passenger registrations in the EU fall by 4.9%, but this can be partly attributed to December 2017 having one less working day than the previous year. Year-to-date demand for new cars in Europe grew for the fourth consecutive year, rising by 3.4% in 2017. More than 15 million passenger vehicles were registered in total, the first time such a large amount of registrations has been seen in Europe since 2007, indicating that the market has at last returned to pre-recession levels.
Italy had the strongest growth of the big countries, up 7.9%, followed by Spain (7.7%), while France and Germany grew by 4.7% and 2.7% respectively. In fact, the UK and Ireland were the only two markets to show a decline over 5% for year-to-date 2017, with the UK at -5.7% and Ireland -10.4%. The strong growth of new EU member countries is also notable, with a total increase of 12.8% during 2017.
VW Group was the largest manufacturer within the EU, registering 3.58 million units for the full year (up 2.3% on the same period for 2016). This was followed by PSA (1.85 million), which took second place (up from third in 2016) and pushed Renault into third place with 1.62 million vehicles (a rise of 28.2%). PSA's boost can be traced to its acquisition of Vauxhall/Opel during the year.
2018 and beyond
It's fair to expect that 2018 will look negative compared to 2017, especially when it comes to the Q1 year-on-year growth rates. As we move into Q2 and Q3 we expect a decline, but not as severe as in Q1 2018. There were several moments last year where the state of the market looked extremely negative. We expect to see 2018 new vehicle registrations below that of 2017. The SMMT has indicated that new passenger car registrations would be down 5.4% at 2.4 million units8.
Harder to predict is what will happen in 2019, as Q1 (March) sees the UK exiting the European Union. How much this move, and the consumer confidence that is tied to it, will affect new vehicle registrations, remains to be seen. We need to wait for the negotiations to be finalised before we have a better picture of what to expect from next year's market and beyond.
References

Read more automotive insights
Get the latest insights, events and guidance about the automotive industry, straight to your inbox