NAVIGATING BREXIT
Need practical advice on navigating Brexit?
Discover our practical steps for business leaders
Having tracked 1,000 facilities management M&A trends over the past decade we present some of the key findings.
The close of Q4 2016 marked 1,000 facilities management (FM) deals since we started recording industry data a decade ago.
The 1,000th FM deal saw French civil engineering and facilities services giant Vinci acquire Doncaster-based high voltage installation specialist, Powell Engineering, on 30 November 2016.
It was fitting to see an international acquirer for the landmark deal because Q4 2016 saw the most overseas deals in a quarter since 2007. This was just one of 122 in-bound acquisitions over the past 10 years.
The increase in overseas buyers demonstrates a global commitment to the UK market. This was reflected in the latest edition of Insights into facilities management - issue 17, where we saw a high level of deal activity. This indicates that Brexit has had little impact for strategic M&A in the sector.
See the infographic below for the key trends: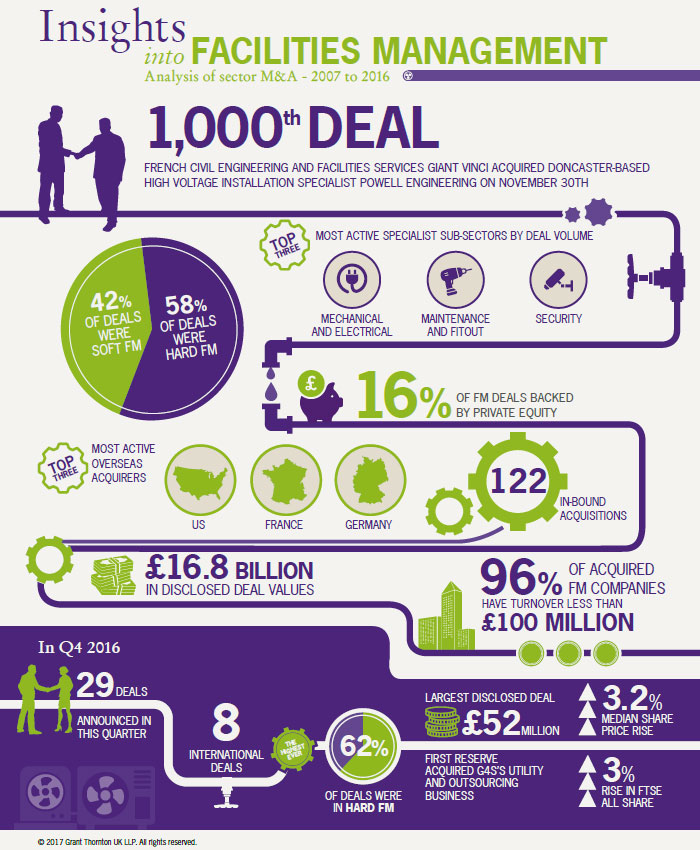 If you would like to hear more about FM, contact Usman Malik or visit the FM page.