NAVIGATING BREXIT
Need practical advice on navigating Brexit?
Discover our practical steps for business leaders
Discover how companies around the globe are approaching corporate social responsibility (CSR), plus the top five things driving UK business to adopt more socially and environmentally sustainable business practices in 2014.
The impact of business on the economy, the environment and society is increasingly being thrust into the spotlight with investor calls for transparency and customers discussing corporate activity on social media.
For our latest International Business Report, we asked 2,500 businesses across 34 economies what is driving their corporate social responsibility activity, examples of CSR initiatives and how these are being reported. We also look at the role integrated reporting can play in improving transparency and decision-making. The full report is available to read here: Corporate social responsibility: beyond financials [ 3253 kb ] (PDF).
We've highlighted some of the key global and UK trends from the report below
Global trends in corporate social responsibility
1. What drives companies to become more socially responsible?
Businesses report an increase in drivers to move towards more environmentally and socially sustainable business practices. Cost management is the main driver globally, followed by customer demand and because it's the 'right thing to do'. How a business is perceived to be operating is also important in many countries, especially China.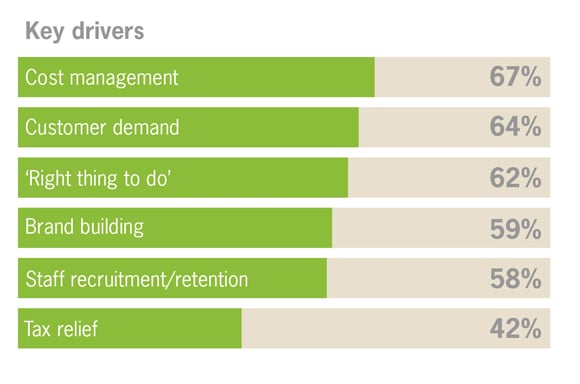 2. Main activities of corporate social responsibility
The vast majority of businesses are involved with local charities, either through donating time, money or products/services. Businesses are also working to reduce their environmental impact, with increasing numbers calculating the carbon footprint of their operations.
3. How to report CSR
Sustainability reporting has increased since 2011, with more than half of businesses now viewing integrated reporting as best practice.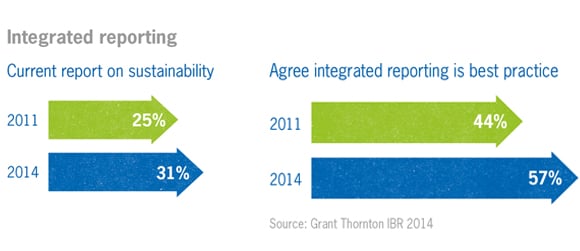 What's driving CSR in the UK?
Increased scrutiny from stakeholders and demand from the public for greater transparency is putting pressure on companies to become more socially and environmentally responsible. But our survey shows that corporate responsibility increasingly makes good financial sense.
Jane Stevensen, Director of Sustainability at Grant Thornton UK LLP, says: "Across the world, CSR and broader business objectives are becoming more aligned. The findings suggest that the benefits of adopting more environmentally and socially sustainable business practices are becoming ever more tangible, for example through tax relief on charitable activity or lower energy bills due to efficiency measures introduced. Despite the overall recognition of cost benefits, it's interesting to see that British businesses seem far more reactive in their approach to CSR and are largely responding to stakeholders' needs."
Top five CSR drivers in the UK
UK respondents, drawn from senior executives from all industry sectors in mid-market businesses, cited the following as the key drivers of corporate social responsibility:
Client/consumer demand (62%)
Recruitment/staff retention (49%)
Cost management (48%).
Public attitudes/building brand (44%)
Because it's 'the right thing to do' (40%)
Paul Raleigh, Global leader – strategic development and growth, Grant Thornton, says CSR could be the difference that beats the competition: "The leadership of dynamic businesses towards more socially responsible and transparent practices is likely to emerge as a competitive edge to unlock their potential for growth in an ever more crowded marketplace."
For more information on this survey and to read the full findings, download the report: Corporate social responsibility: beyond financials [ 3253 kb ] (PDF).
Read the report
Download PDF [3253 kb]