NAVIGATING BREXIT
Need practical advice on navigating Brexit?
Discover our practical steps for business leaders
Forced to adapt business models and resize in response to unprecedented falls in demand, travel and tourism companies have faced a perfect storm in COVID-19. But those that can weather it will be looking to capitalise on market opportunities in the years ahead.
As the UK tentatively emerge from lockdown and government guidance on travel changes, we spoke with a number of senior executives at leading UK travel and tourism companies to ask their thoughts on the latest market developments and outlook for the sector.
The travel sector has been among the hardest hit industries by COVID-19, with demand in Europe expected to decline by c.40% in 20201. The national lockdown and blanket 'no travel' advice from the Foreign and Commonwealth Office has wiped out much of the key summer season. While July and August saw some uptick in foreign travel, the outlook for the rest of the year remains highly challenging as consumers postpone plans until future years.
Travel sector has reacted quickly
Travel and leisure companies have reacted rapidly to the impacts of coronavirus: repatriating stranded customers, managing refunds and encouraging consumers to rebook holidays, while aggressively taking cost out of their business. Steps taken by the travel executives we spoke to include:
proactively

contacting clients with existing bookings to encourage rebooking rather than a refund

–

luxury companies have achiev

ed

rebooking rates of 50-90%,

provid

ing

a degree of visibility for 2021
take up

of the

government furlough scheme (typically furloughing

around

60% of employees

)

– although further redundancies seem

inevitable

as the

scheme

end

s
using tax payment holidays, negotiating agreements with key suppliers, such as property and utilities, and removing any other unnecessary costs
modelling working capital requirements for a range of demand scenarios.
To get your copy of the latest outlook for the travel sector contact Yvonne Chappell
A fragmented sector further hit by the fall in demand
Rising disposable incomes and continued cultural drivers to travel overseas have led to a sustained period of growth in the travel industry, with UK outbound trips increasing at 7% p.a.2. The rise of the internet as the travel booking source of choice has led to a plethora of online travel companies emerging, scaling and gradually consolidating – with both existing trade buyers and private equity active in the sector.
The travel sector remains fragmented with 4,000+ travel agencies and operators, and 95% of establishments employing fewer than 20 people3. The number of firms grew at 3% p.a. in 2015-19 yet total employment only grew at 2% p.a.4 as many small agencies were set up.
One travel industry expert we spoke to commented "It will be a smaller industry for sure– I'm expecting consolidation and failures – the good businesses are right-sizing their business and should survive. There will be some larger failures as well such as Shearings – I know of many firms going through restructurings."
Despite the proactive approach to reducing costs we expect significant churn in the travel sector, particularly among smaller companies who are typically most vulnerable. It is likely that many lifestyle businesses, without the discipline or inclination for contingency planning of the scale required to survive the impact of coronavirus, will be forced to hibernate or close completely. Large and mid-size operators have been dynamic in aggressively reducing costs, and our interviews suggest most have the required working capital to survive the crisis, although they will emerge as much smaller and leaner businesses.
Return to normal growth in 2022?
Many companies are already shifting focus to 2021 and 2022. The market outlook varies significantly for travel companies depending on their exposure to different holiday types (luxury, ski, cruise, for example), destinations served and customer demographics. But the future remains challenging for all.
In the absence of a major second wave, travel companies expect a slow start to 2021 due to the ongoing impacts of coronavirus. Consumer confidence is expected to increase throughout the year and travel to normalise in the second half of the year. While estimates vary significantly, travel companies are predicting revenues of c.75% of 2019 levels in 2020 and c.90-100% in 20215. However, this may prove to be a 'best-case' forecast as data from IATA suggests that air travel is unlikely to fully recover until 2023, with domestic and short-haul recovering ahead of long-haul.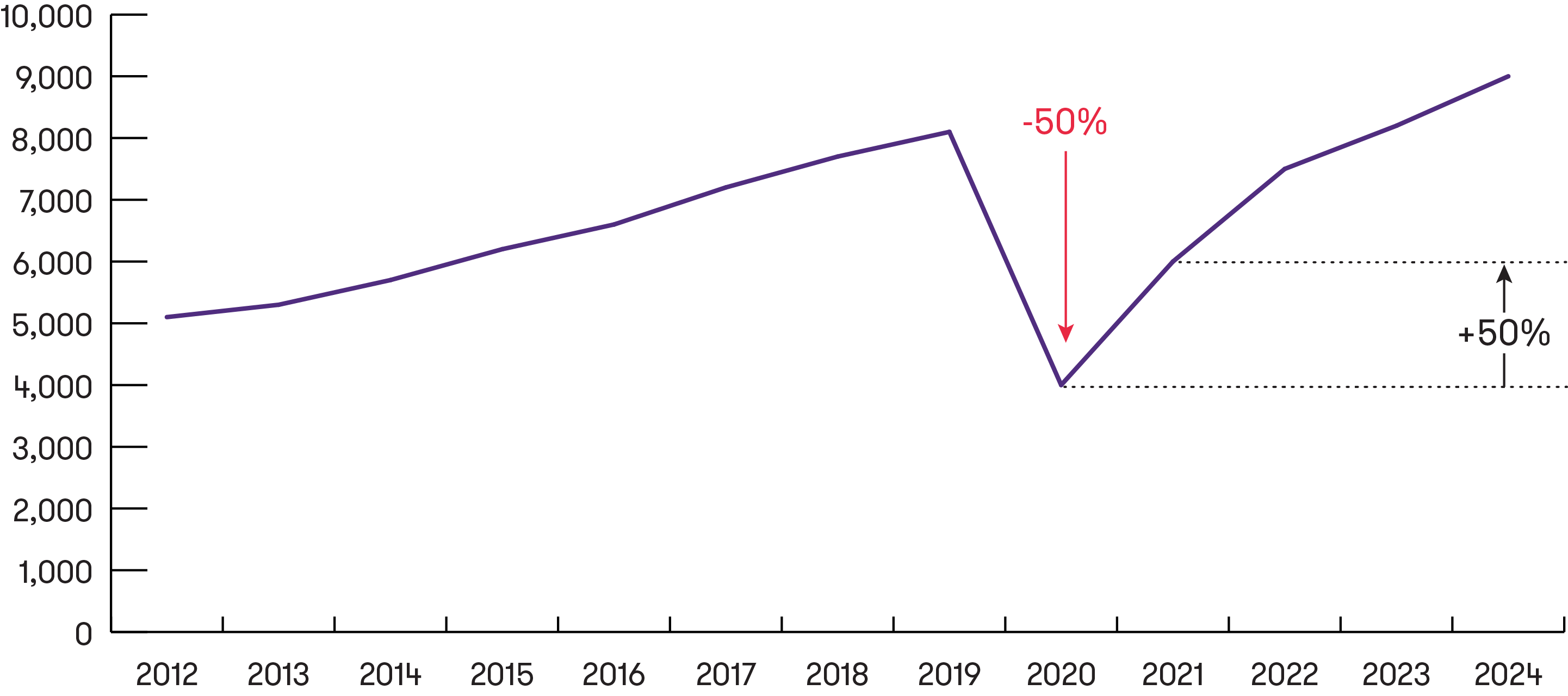 The travel industry can take some comfort from the way in which it recovered from previous global incidents such as the 2008/09 global financial crisis, SARS virus and the September 11 attacks, all of which saw a return to pre-crisis volumes within 18 months6. However, the recovery from coronavirus is likely to be longer, given the sheer scale of disruption caused and the likely economic consequences that will endure.
One business leader from the luxury travel sector reflected: "The difference between all the other crises I've dealt with such as September 11 and so on, is that they are an event, and then every week after it is a recovery. COVID-19 is totally different as it is ongoing, and the spread of the virus won't reach an end for some time. It is very difficult to predict the end – we have to accept we are dealing with a new set of realities."
Travel sector set for consolidation – and opportunity
Although business closures are regrettable, they offer an opportunity to capture market share. Firms with a strong brand or exposure to less severely impacted sub-sectors will be more confident of a return to growth, and may look opportunistically at M&A. We also anticipate that larger travel companies with healthy balance sheets will look to M&A to further diversify their offerings – if they can find targets that are priced competitively and provide long-term growth opportunities.
The current climate makes valuing an acquisition challenging. The travel sector is an asset-light industry, and valuations are driven by demonstrable retention of existing clients and an effective new sales function. This may be challenging now, but companies that can demonstrate momentum in recovery will be best able to protect value.
In the longer term, we may see a profusion of start-ups as entrepreneurs discover and exploit attractive niches in the post-COVID-19 world.
To read the report on the insights and views from leading executives on how the travel industry is managing through consolidation and preparing for growth in the recovery please contact Yvonne Chappell.
Sources
1 Statista, https://www.statista.com/
2 Office for National Statistics, https://www.ons.gov.uk/
3 IBIS World, https://www.ibisworld.com/
4 IBIS World, https://www.ibisworld.com/
5 Association of Independent Tour Operators Member Survey, 2020
6 UN World Tourism Organisation - May 2020, https://www.unwto.org/news/covid-19-international-tourist-numbers-could-fall-60-80-in-2020