NAVIGATING BREXIT
Need practical advice on navigating Brexit?
Discover our practical steps for business leaders
"What role would leaders and local institutions be playing if they were delivering positive outcomes from the Industrial Strategy?
Figure 1: A visual representation of those positive outcomes identified by the local leaders, Scriberia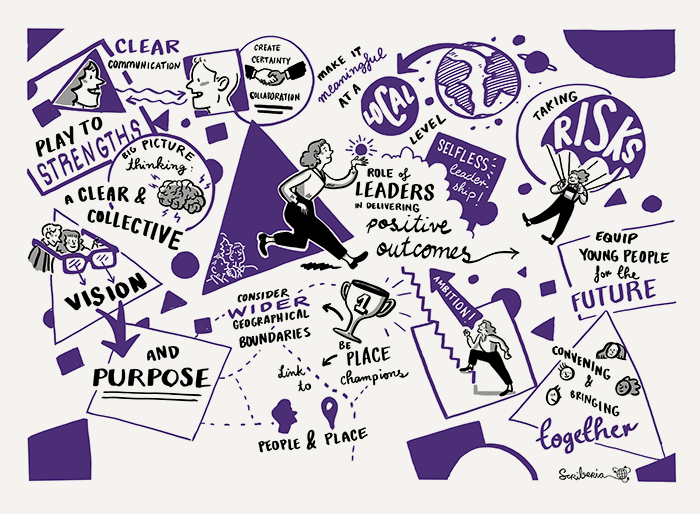 A number of common themes resonated across all of our delegate groups, providing a clear view of the role that should be played by leaders and local institutions in delivering the Industrial Strategy at a local level (See figure 1). Overall it was felt that the role should encompass:
Vision and purpose: the development and communication of a clear and shared vision and purpose, making the Industrial Strategy meaningful to all
Boldness: a willingness to be bold, ambitious and to take risks
Strong leadership for today and tomorrow: the application of strong, positive leadership and the nurturing of future leaders for continuation purposes as the industrial strategy beds in
Selflessness: a selfless and transparent decision-making approach that bolsters trust
Collaboration and boundary breaking: collaboration across the public and private sector, and across local authority geographical boundaries – thinking beyond boundaries to play on regional strengths
Place championing: building a strong identity and brand for places by recognising and celebrating their uniqueness – engaging with the community so that they become 'place champions' themselves
Skills promotion: support of skills development to ensure increased productivity and a future-proofed workforce
"Looking ahead and considering our diverse local authority agendas, the Industrial Strategy and surrounding policy landscape, what aspects might work well for everyone?"

Figure 2. A visual representation of those outcomes looking at what might work well as identified by the local leaders, Scriberia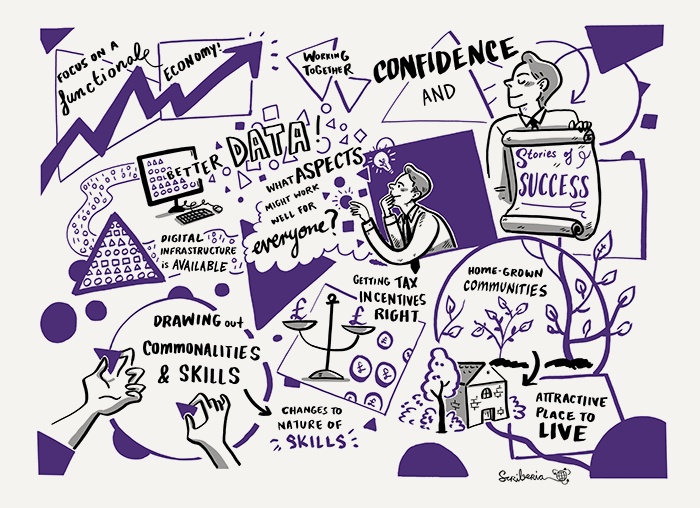 When considering the aspects that might work well for everyone, these were the most common themes (See figure 2):
Improved infrastructure: to create a level playing field for all, across the entire country
Improved digital connectivity: to support economic growth and the Internet of Things to enable the smart cities agenda
A focus on skills: closing the skills gap and future-proofing the workforce, highlighting skill strengths in regions and increasing apprenticeships
A focus on further and higher education: matching college course provision to educational needs that will support employment, utilising universities as anchor institutions
Sharing success stories: demonstrating confidence and promoting strengths
Speaking with one voice: regardless of geographic boundaries/competing interests
Celebrating and capitalising on the uniqueness of places: promoting strengths and helping to ensure a place based approach to the Industrial Strategy
What runs through all of the responses to our discussions is the need for collaboration, openness, trust, connectivity and shared prosperity: the building blocks of a vibrant economy.
If, as the Government promises, the Industrial Strategy is to build on our strengths, extend excellence into the future; close the gap between the UK's most productive companies, industries, places and people and the rest; and make the UK one of the most competitive places in the world to start or grow a business, local government must be able to influence and shape policy from the outset. By helping to provide a voice for local government and sharing findings from our ongoing engagement with leaders, we will continue to support the creation of a vibrant economy that benefits all.
Get the latest insights, events and guidance about the public sector and local government, straight to your inbox.
Subscribe here