NAVIGATING BREXIT
Need practical advice on navigating Brexit?
Discover our practical steps for business leaders
The need for talent and skills has never been greater or more crucial to the long-term success of high-growth businesses. In a fiercely competitive recruitment market, finding people with the right skills is a challenge for one in two of these businesses, as revealed in our most recent report People power: fuelling talent and growth through skills.
Of equal concern, particularly for the CFO and finance function, is the huge cost to the organisation of failing to retain this valuable talent. According to estimates by Oxford Economics, the average cost of replacing a single employee is over £30,000. This is before considering the intangible cost of losing the knowledge and experience of the individual, which are fundamental to future growth. The reality is that it costs more to recruit than it does to retain and develop talent.
Download People power: fuelling growth through talent and skills [ 2857 kb ] to uncover the real challenges and suggested tactics to securing future talent and skills for high-growth businesses.
Challenge: Competing for in-demand talent
As well as being future proof, talent management strategies need to be innovative. With 88% of high-growth businesses expecting competition for talent to increase in the next year, a CFO with their eye on the bottom line will need to look outside traditional recruitment routes to effectively compete with more established players in the market.
By looking beyond conventional sources of talent you are also more likely to increase diversity in the business. Attracting and developing talent from diverse backgrounds has commercial value because it creates a greater variety of ideas, which leads to greater innovation and business resilience. The Center for Talent Innovation found that the most diverse organisations are 45% more likely to improve market share.
Challenge: Investing in talent to deliver commercial value
Retaining and investing in talent is crucial to the growth of any business, so you need to take the time to understand what motivates your employees. While fair pay is likely to remain a key driver, many employees also value a clear future career path and the feeling that they're making a difference to society.
"Employee retention is integral to our growth strategy. If you don't invest in people you're forever chasing your tail: if people leave because they don't feel stretched and fulfilled, then all you're doing is replacing them rather than adding people and skills for growth," explains Lucy Goddard HR manager at Pricecheck.
"It can be quite scary, thinking you might invest all that time and effort only to lose people. But because we know people as individuals and take an interest in where they want to take their careers, that motivates them to stay."
Download the report
Download PDF [2857 kb]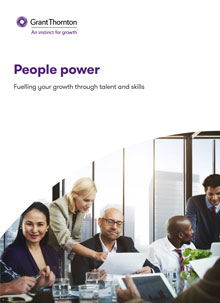 Challenge: Nurturing the right skills and mindset to drive future growth
High growth companies need people with advanced technical skills to leverage the best of the new and emerging technologies. But it is also vital to encourage those soft skills that enable people to work effectively with each other and the business to add strategic value, such as creativity, collaboration and leadership.
Just as the finance function needs to focus on training and developing its own future talent, it needs to take a more strategic view, demonstrate outstanding technical and commercial skills, and play an influential role in board level conversations around talent. Effectively partnering with other key functions within the organisation and advising on the strategic agenda, the CFO and the finance team can help steer the organisations through change, which is critical to its growth.
Apprenticeships can deliver some great opportunities to nurture this talent. Through the Apprenticeship Levy, organisations can develop and up skill their entire workforce with measurable return on investment - one of the criteria for being awarded lucrative public sector contracts will be the number of apprenticeships.
Highly skilled and motivated staff are fundamental to the long-term success of a high-growth businesses. As such, recruiting and retaining the right people is a concern for the business as a whole, its efficiency, growth and profit. For further insights into securing talent and skills for future growth, download People power: fuelling growth through talent and skills [ 2857 kb ] for more.