The UK is at a pivotal point in its history.
The election shows the need for government and politicians, nationally and locally, to work together to reshape our economy. Government cannot, and should not, do that alone. We all have a big role to play and have a desire and ability to make a difference.
Over the past 18 months, we have brought together more than 1000 community and business leaders up and down the UK to discuss what matters to them and how they can work together to bring this to life.
We collated these ideas and added feedback from our clients and contacts to create Shaping a vibrant economy - A blueprint for the UK, a set of policy recommendations that we will share with government.
We want the government to use this opportunity to unlock and accelerate our country's potential across three key areas.
Trust - helping to restore purpose to financial markets, championing impact investing.
Growth - putting collaboration at the heart of the UK's industrial strategy to boost exports, develop skills and unlock innovation.
Place - devolving powers from Westminster and Brussels to foster vibrant local economies.
Get involved
Join the conversation online #VibrantEconomy @GrantThorntonUK
Watch our animation below and read Shaping a vibrant economy – A blueprint for the UK [ 3438 kb ] for the full recommendations.
Read our recommendations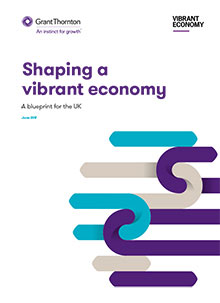 Consider the potential impacts and opportunities it will create for your organisation