NAVIGATING BREXIT
Need practical advice on navigating Brexit?
Discover our practical steps for business leaders
Tech shares are outperforming the market but is executive pay? Grant Thornton's survey of CEO and CFO remuneration in listed technology companies reveals a sector still partly in catch-up.
In the second half of 2014, the UK technology sector experienced the highest levels of growth in over four years (source: Tech Monitor UK report). With a narrowing of the gap between pay in the technology sector and the rest of the market long overdue, our latest Executive pay in the technology sector [ 103 kb ] survey makes for interesting reading as the sector plays catch-up.
The survey is also compelling reading for remuneration committees that want to test executive pay. Many want to ensure that pay conforms to best practice but is also sufficient to incentivise talent in the industry. And there are potential implications for unlisted technology companies, who may hire in employees from listed companies whose salaries may have been influenced by those of their senior management.
Here are six summary highlights from the report, which is based on the 2012/13 public accounts of technology firms on the London Stock Exchange's main market and Alternative Investment Market (AIM).
1. Total remuneration on the rise
Total remuneration in the technology sector is higher for main market companies but lower for AIM companies when compared to the rest of the market.
The average CEO reward package at main market technology companies rose by 4% compared with the previous year, to £1,475,000, nearly a fifth more than the full market mean (£1,187,000). Main market CFOs received mean salary packages of £956,000 – a rise of 27% on the previous year.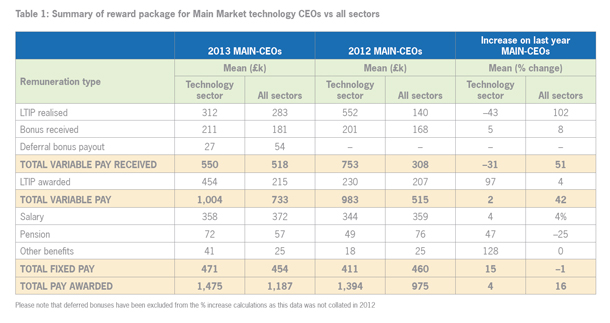 There were bigger movements in AIM companies where the percentage increase in total remuneration on the prior year is more than 50% – which goes some way to narrowing the gap with other sectors. This increase is largely accounted for by long-term incentive plans (LTIP) awarded and LTIP realised.
However, although the average CEO remuneration package at AIM technology companies rose by 55% year-on-year, to £593,000, this is still a third less than their AIM peers on average.
The report presents similar findings for CFOs of AIM-listed technology companies, who received mean remuneration packages of £292,000 versus the £540,000 full market mean. This represents a year-on-year increase of 52% in sector CFO pay, although this is still some 60% below what other AIM-listed CFOs were granted.
2. Base salaries depressed but show signs of catching up
Base salaries in the technology sector are relatively depressed compared to other industries, which was also the case last year. However, technology companies appear to be catching up as the percentage increase was generally higher than the rest of the market, except for main market chief executives whose increases were the same as the rest of the market.
3. Annual bonuses low or non-existent
The number of executives receiving any level of bonus is still quite low, with a significant number of companies awarding no bonuses at all. Although this has slightly worsened for the main market, where executives receive discretionary bonuses at the end of the year, it may indicate that remuneration committees feel intimidated by the risk of adverse press comment into making modest or no-bonus payments even where performance is sound.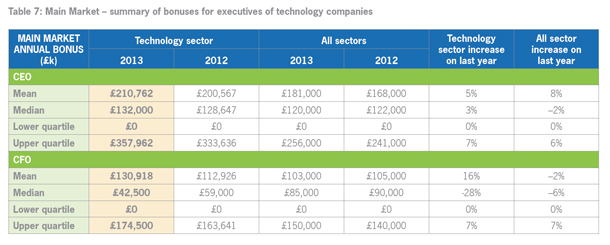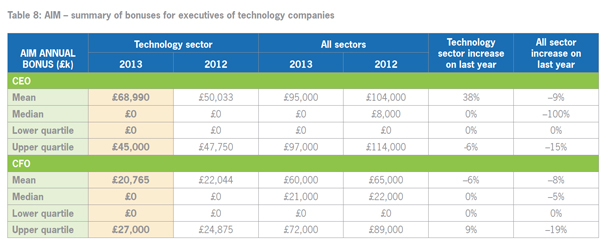 4. Bonus deferral is majority option
Nearly three-quarters (70%) of main market listed technology companies who paid their executives bonuses this year, operated a bonus deferral policy – perhaps recognising many shareholders' preference for long-term remuneration practices.
5. LTIP awarded is double that of other sectors
The technology sector has traditionally embraced long-term incentive plans so we might expect to see bigger share-based awards compared to the rest of the market. This was borne out by our survey with LTIP awards to main market technology executives approximately double the awards in other sectors. Technology executives on AIM have higher awards than the rest of the sector but not as high as the main market.


6. LTIP payouts buoyant on main market
LTIP realised (ie, payouts from long-term incentive plans) have been buoyant in the main market but on AIM are still disappointing, although there have been significant percentage increases on last year. This may mean that awards are now reaching their first exercise date.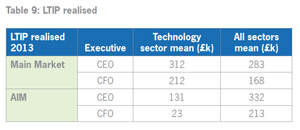 As a general comment, while lower salary levels are the norm in this sector, they are catching up with the rest of the market – the principle behind this is that a far greater proportion of pay should be linked to performance. Our survey shows that levels of LTIP awards are now more generous and are going some way to compensate for the high performance, and high risk nature of the industry.
Amanda Flint, Partner and Head of Executive Remuneration at Grant Thornton UK LLP, said: "It's encouraging to see that salary levels for tech executives are headed in the right direction towards catching up with peers in other sectors, although there will still be a concern over the current disparity.
"In order for the UK tech sector to attract the right talent and skills it needs to fulfil its potential, there's a need to ensure that the reward proposition is attractive and executives are adequately compensated for the value they're delivering to shareholders."
For a full copy of the report, contact our Executive compensation team or download the executive pay summary here [ 103 kb ] (PDF).
Download report
Download PDF [103 kb]