NAVIGATING BREXIT
Need practical advice on navigating Brexit?
Discover our practical steps for business leaders
There are troubled times ahead for the recruitment sector as mid-market agencies experience reduced demand with few resources to fall back on. Rob Graham explains how this could offer opportunities for consolidation with larger firms.
At the onset of lockdown, we spoke to 24 business owners and senior executives across the recruitment industry. Four in five were quick to take up the government's furlough scheme to reduce their greatest cost while protecting talent.
However, with the government turning to employers to contribute to the furlough programme from August, and most recruitment sector firms not expecting demand to return until far later this year, it is likely that a significant tranche of firms will be unable to bridge the gap.
Read our report on the outlook for the recruitment sector [ 1356 kb ]
A fluid market for recruitment sector
Low barriers to entry have made the growing recruitment sector a bounty for entrepreneurial recruitment consultants leveraging their networks and founding new practices.
In the five years to March 2019, the Recruitment and Employment Confederation recorded 16% annual growth in the industry. The number of firms over this period grew 8%, with those with under five employees increasing by over 1,500 each year.
The result is a fragmented market of around 30,000 recruitment firms in the UK, with more than two thirds comprised of fewer than five employees.
Many of these will be lifestyle businesses, without the discipline or inclination for contingency planning of the scale required to survive the impact of COVID-19. Others may be a victim of their own success, with ambition and growth fuelling precarious margins contingent upon sustaining their growth trajectory.
The credit crisis a decade ago exposed businesses dependent on finance, but also led to the recruitment sector contracting by 27% from March 2008 to 2010, pressurising firms of all sizes. The number of recruitment firms with under five employees fell sharply, but on the whole, smaller enterprises fared better, pointing to more-agile overheads or more-accessible contingency funding.
Above the 20-employee mark, the costs of premises, employment and IT services appear to become more difficult to flex.
% Decline in the UK active firms in recruitment 2008-11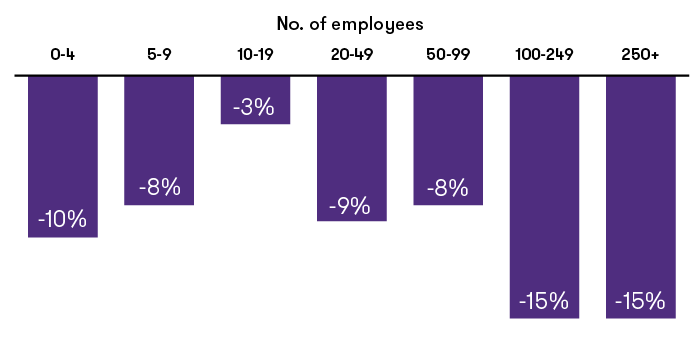 Source: Office for National Statistics & Grant Thornton UK LLP analysis

"The most vulnerable firms are a bit bigger than owner-managed: multi-site and complex firms that are starting to grow and can't scale down cost base, that middle market is where we'll see the failures" – CEO, 50-100 employee recruitment firm
"Lots of small businesses under half a million EBITDA will be at risk – they won't have the resources themselves" – Eddie Austin, CEO, Operam Education Group.
If you are at the table, what's on the menu?
Although business closures are regrettable, they, nevertheless, offer an opportunity to capture market share. Firms with a strong brand or expertise in attracting rare or quality talent will be more confident of rapid growth, gaining clients looking to reshape and reskill their talent base.
The current climate also makes valuing an acquisition challenging. The recruitment sector is an asset-light industry and valuations are driven by demonstrable retention of both clients and employees.
"We haven't stopped our acquisition strategy, but we probably will push acquisitions back slightly until we have a clearer view on valuation models, evolving deal structures and vendor expectations" – Eddie Austin, CEO, Operam Education Group
Potential acquirers must also consider less-tangible factors, such as culture and brand reputation.
"Our research with clients of recruitment firms finds that often it is the key staff and attractive working cultures, rather than codified processes, that drives differentiation and real strategic value. However, technology and the provision of real-time information can reinforce this to ensure longstanding partnerships with clients and candidates." Andrew Hawkins, Co-head, Grant Thornton Strategy Group
"It's also about fit between companies and culture, and this makes it (acquisition) unlikely. Instead, we'll seek to grow internally and take the market share" – Director, 20-50 employee recruitment firm
Nonetheless, acquiring a recruitment sector firm enables stepping immediately into new lines or geographies, such as the merger, earlier this year, of TechStream, Etonwood and Xcede in the technology space, or Dartmouth Partners' international expansion through its acquisition of Pure last year.
Investments in tools and processes have improved the visibility of recruitment sector firms' sustainable value for potential suitors. Transactions in the sector more than doubled in the five years following the credit crisis, and we expect a rise in activity coming out of lockdown.
Mergers and acquisitions in the UK recruitment sector: Transaction volumes in UK recruitment firms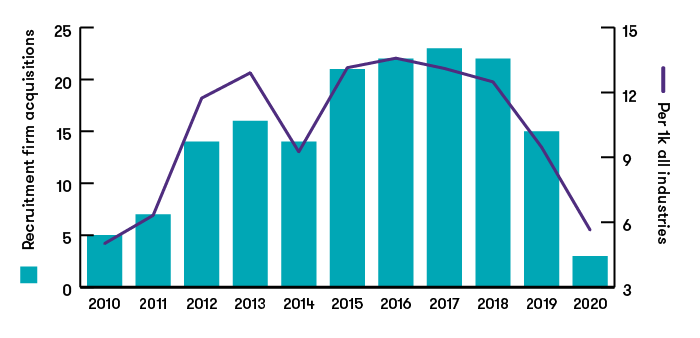 Source: Mergermarket & Grant Thornton UK LLP analysis
Are you on the front foot for recruitment sector consolidation?
The value of a recruitment sector firm can drop rapidly under pressures of insolvency, from employee performance to candidate and client relationships. A struggling firm's residual value may no longer warrant the costs of integration for prospective acquirers.
Ambitious recruitment sector firms will have shortlisted attractive targets already, and perhaps instigated conversations about partnerships or funding to ensure they are at the front of the queue. At the very least, clarifying your growth strategy and understanding the role of potential acquisitions will help you respond quickly to arising opportunities.
Read our report on the insights and views from leading executives on how the recruitment industry is managing through the coronavirus lockdown and preparing for growth in the recovery. [ 1356 kb ]
f
Download the report
Download PDF [1356 kb]