NAVIGATING BREXIT
Need practical advice on navigating Brexit?
Discover our practical steps for business leaders
The global offshore wind market is expected to deliver a several-fold increase in capacity on today's levels by 2030.
But what does this mean for stakeholders in an environment of increasing finance availability, decreasing government incentives and improving cost efficiencies?
To investigate this we surveyed over 100 offshore wind experts including lawyers, funders and consultants, from the UK and internationally, to understand their views on the risks and future development of the offshore wind market.
Over the next five years, offshore wind investment is expected to shift away from Europe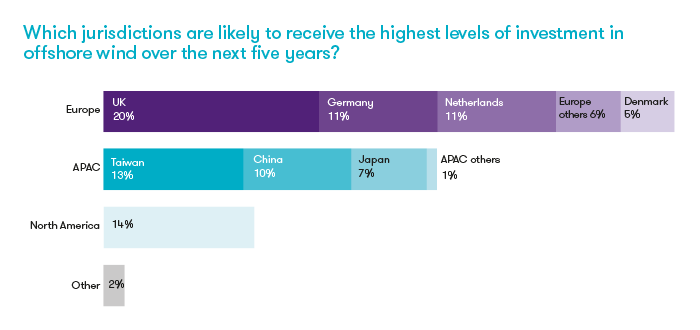 Europe will continue to be at the forefront of investment and innovation in the offshore wind sector, but APAC is closing the gap. In the five years to 2017, Europe attracted over 80% of total private finance in offshore wind projects and accounted for virtually all merger and acquisition (M&A) activity in the sector. Respondents to our survey identified that over the next five years APAC and North American investment will increase significantly.
Download the full Winds of change: Navigating risk in the offshore wind sector [ 2325 kb ]
Government support remains critical for continued investment in offshore wind projects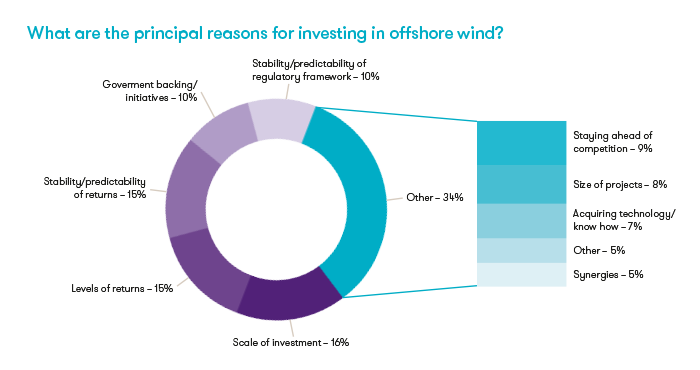 One in five respondents identified the role of governments, either in providing incentives or as guarantors of regulatory stability, as one of the principal reasons for investing in offshore wind projects.
Size and scalability will become increasingly important to the development of wind farms
40% of respondents say size and scalability will have the most significant impact on cost efficiencies. Turbine size has increased by almost a quarter and wind farm size by over a third since 2016.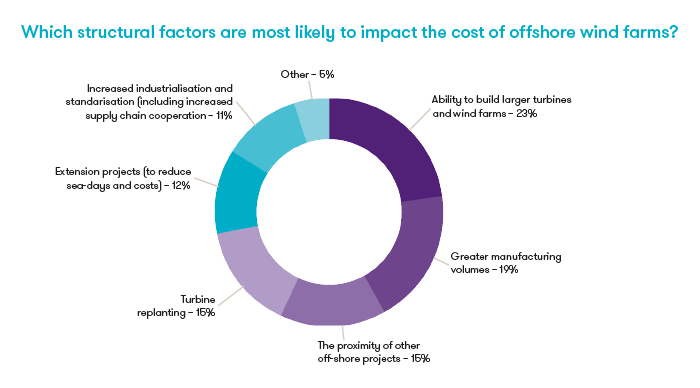 In a time of increasing focus on the finite level of carbon resources and a need to reduce human impact on the environment, offshore wind offers the greatest investment opportunity to deliver the power required in a sustainable manner with an ever-increasing rate of technological change.
This report will provide insights for all offshore wind stakeholders on what's changing and what's not in offshore wind, and detail the benefits and risk of investing in offshore wind.
To find out more about our research and experience in offshore wind or get in touch with Tomas Freyman.
Download the report
Download PDF [2325 kb]