NAVIGATING BREXIT
Need practical advice on navigating Brexit?
Discover our practical steps for business leaders
With 50 deals, 2017 was a record year for M&A activity across the waste sector. Our analysis of the strategies that are driving that activity, as well as broader political factors, shows a number of trends emerging that will affect the waste sector over the coming years.
Recycling to grow in the circular economy
In contrast to the stable levels of deals in other waste sectors, recycling has seen an increase over the past 12 months.
The effect of David Attenborough's 'Blue Planet' means that waste, and how we deal with it, is firmly on the national agenda. This has created more pressure than ever on the UK government to rethink its approach to waste and recycling. As a result, we have seen the publications of an ambitious 25-year green plan1 as well as initiatives like the 'Latte Levy'2 which aims to replace all disposable coffee cups with reusable ones. Alongside the rumoured ban on plastic straws3 and wet wipes, it's clear that interest in recycling is set to continue over 2018.
These efforts coincide with those being made in other parts of the world. Last year China announced it was refusing to take any more plastic waste imports4, a move which has impacted the UK's plastic recycling efforts. In response, UK recycling businesses are looking to protect themselves against the risk of losing a key market, with Biffa's acquisition of Eco Foods Recycling an example of the action they are taking. Elsewhere, in Norway, the introduction of a new deposit-based system5 for recycling bottles has proved effective in tackling plastic litter - a scheme the UK may adopt.
In light of this, recyclers will continue to grow their stake as key players in the circular economy over the coming year. From expanding material portfolios to acquiring assets across the waste reprocessing supply chain, companies will look to maintain and develop the value of their materials. This will reduce the risks of overreliance on one segment of the waste-to-product process.
As a result, we anticipate a higher number of consolidation deals in 2018, to enable recyclers to tap into the new opportunities presented by a changing and complex sector.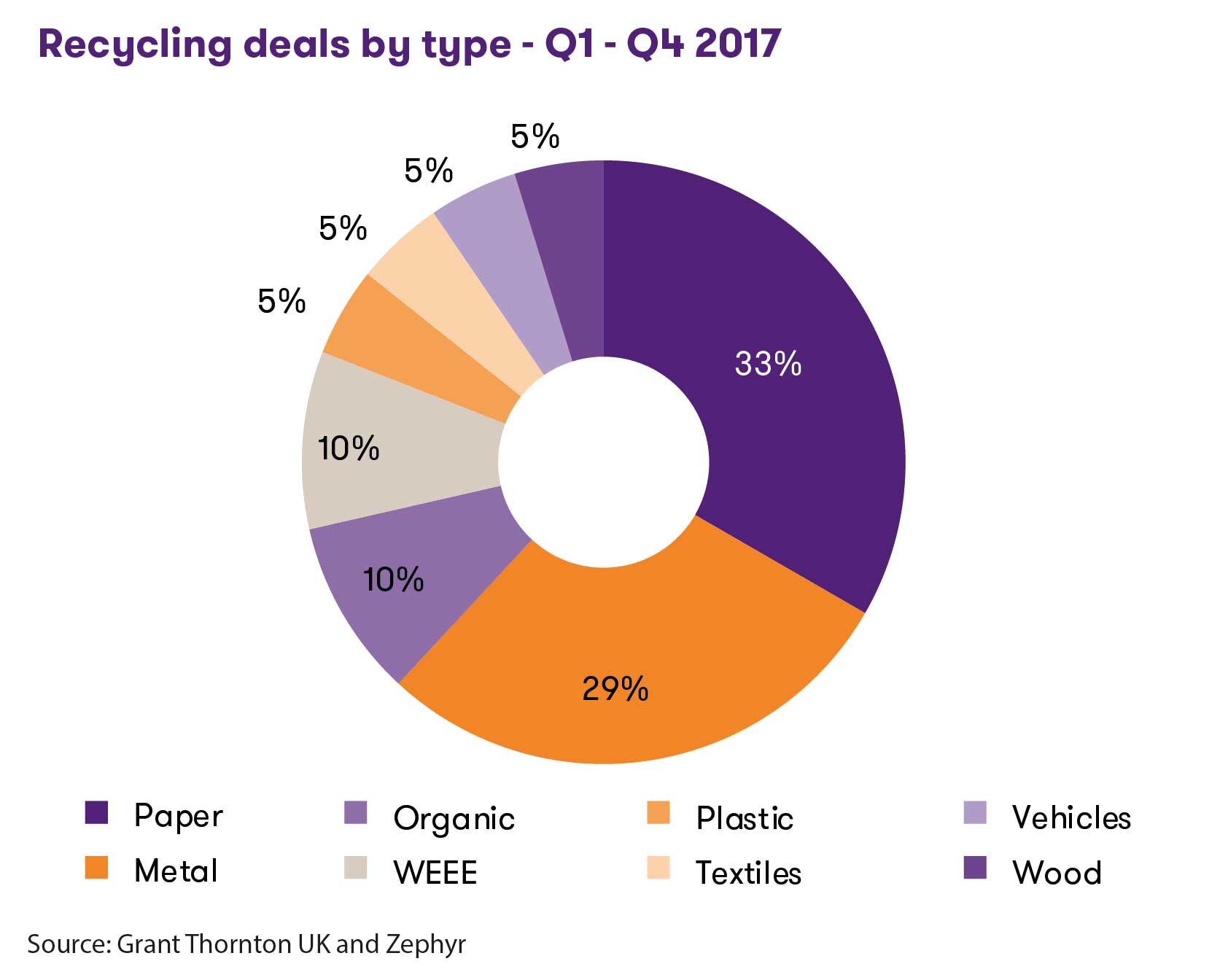 Fulfilling the promise of hazardous waste recycling
Alongside recycling, niche waste markets are set to pick up further interest this year. Hazardous and industrial waste in particular could increase, after accounting for 24% of deals in 2017.
The level of activity will depend on how the technology to treat and recycle hazardous waste develops. While contractors are confident that the capability to recycle hazardous materials is not far away, the fact remains that the majority of such waste is not recyclable. It still needs specialist treatment before being put in landfill and this has made investment in hazardous processing plants less appealing to some investors. However, if the sector is able to demonstrate it can get the technology right, it will become a far more attractive acquisition proposition.
Looking ahead to the rest of this year, those that continue to bridge the gap between waste and energy production are sure to attract significant interest.
To discuss how your business could take advantage of these opportunities, please contact Mike Read.
References