NAVIGATING BREXIT
Need practical advice on navigating Brexit?
Discover our practical steps for business leaders
Our latest International Business Report shows tech is now the primary focus of most sectors. Rob Graham summarises the key points of the report.
COVID-19 has shone a revealing light on business continuity and technical agility for firms of all sizes. Businesses that have refrained from investing in their operating technology – from collaboration software to cloud-hosted systems – found adapting to lockdown far more challenging than their more agile competitors. In a survey of 278 UK businesses, our latest International Business Report shows technology is at the top of the list of skills gaps revealed by the pandemic.
"Has your response to COVID-19 identified a skills gap within your organisation in any of the following areas?"
| | | |
| --- | --- | --- |
| Total | 278 | 100% |
| Administrative | 52 | 19% |
| Marketing and external communications/PR | 53 | 19% |
| Internal communications | 47 | 17% |
| Operational | 58 | 21% |
| Digital/IT | 122 | 44% |
| Technical | 50 | 18% |
| "Other, please specify" | 1 | 0% |
| No skills gap identified | 80 | 29% |
In parallel, a study by the technology membership organisation, techUK1, revealed 71% of business leaders felt businesses would become more dependent on technology as a result of the pandemic.
Consequently, there has been an upswing in recruitment in technology areas such as digitisation, cloud infrastructure, unified communications and cyber security amidst the widespread evacuation of offices and adoption of new digital tools during lock-down.
When we spoke to leaders of 24 recruitment firms earlier this year about the impact of COVID-19 upon net fee income, the IT and technology sector came second only to the burgeoning health and pharmaceutical industry.
"Our technology markets have been more resilient: people are working from home" – CFO, 100-250 employee recruiter

"I would say we have had even more conversations with clients than before" – Director, 1,000+ employee recruiter
COVID-19 reduction in net fee income during lockdown by sector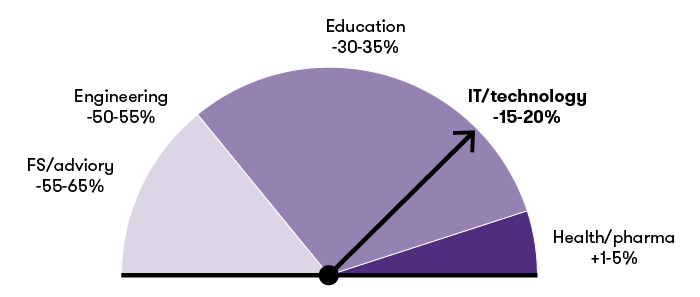 Read our report on how tech recruitment is preparing for recovery [ 1356 kb ]
However, this result hides significant disparity between roles. Faced with economic uncertainty, discretionary investments are more likely to be postponed. Larger corporates have re-allocated resources, while start-ups have put projects on hold. Product development pipelines, new product launches and the continuous improvement of less-critical operations are all areas where cash has been redirected.
Research by the jobs board CV-Library found a 44% year-on-year drop in advertised tech roles in July 2020. Investing in understanding jobseekers' skills and agility, beyond their job titles, responsibilities or employers can help align your candidate base to your clients' emerging demands.
Permanent hires hardest hit
Commitment to permanent roles has been hit hardest with one recruiter forecasting 95% drop in permanent income for six months.
"Permanent recruitment is dead. Those with perm hires in the pipeline are stalling" – CEO, 250-500 employee recruiter

"Permanent hires will return but slowly. Clients are taking the time to consider what their talent base should look like to support anticipated demand as yet still remains uncertain." – Andrew Hawkins, Co-head, Grant Thornton Strategy Group
In contrast, contractors already in position may even be more productive working remotely, with reduced appetite for taking leave and many IT workers already adept at working within virtual teams. Temporary roles pose less risk for employers and enable them to adapt to changing economic circumstances. Recent data from the Recruitment and Employment Confederation (REC) shows for the first time since May-June 2018, firms are more likely to consider hiring temporary workers than permanent members of staff in the next three months. The trend echoes previous recoveries and bodes well for agencies providing a mix of permanent and short-term candidates.
"Businesses will use temporary work to start to build back. That makes sense, and matches the pattern of previous recoveries"2, – Neil Carberry, Chief Executive, REC

"Contract job flow has remained high and the utilisation level of our current runners has actually increased" – DJ Marker, COO, Trinnovo Group
Keep your network close ready for a rapid return
With inevitable business closures releasing talent, the latter half of the year will see a busy market for both temporary and permanent technology recruitment.
"There'll be a softening of margins in the next couple of months as there's a scrap for business" – CFO, 100-250 employee recruiter

"Our contingent workforce is the type of thing businesses can switch on quickly" – Director, 1,000+ employee recruiter
Investing time in relationship management is fundamental to ensure your recruitment business is at the front of the queue as soon as new roles materialise. Hirers are adapting their priorities through the crisis, and so it is key to understand how their resourcing needs are developing.
"We are being asked by many of our clients to come up with the range of future market and competitor scenarios they may face. The only way to do that properly is to keep close to your clients – partnership is critical to lead, rather than react to, change." – Andrew Hawkins, Co-head, Grant Thornton Strategy Group

"Our front-facing staff are speaking to clients and candidates to try to support them through this" – Director, 1,000+ employee recruiter.

"We've provided support where needed and we've strengthened the supply chain" – CEO, 500-1,000 employee recruiter
Our interviews revealed furloughing staff has been widely adopted by recruitment firms to facilitate a quick return to capacity. Ensure your employees are using this time to keep up to date with training, and familiarising themselves with client and candidate profiles so that they can hit the ground running upon their return.
"The furlough enables us to scale up when demand comes back" – CEO, 500-1,000 employee recruiter
COVID-19 has been less severe for recruiters serving technology sectors. However, it has been a brutal test of their operational and financial agility while supporting their clients through the crisis.
In all but the most specialised roles, the latter half of the year will be a hirers market. And for many firms in the sector, the toughest conditions are yet to come.
To discuss any of the themes and trends in this report or to have a more detailed conversation on current market trends, contact Andrew Hawkins or Rob Graham.
References
Download the report
Download PDF [1356 kb]